Lucas Dolphin: 300 to Spare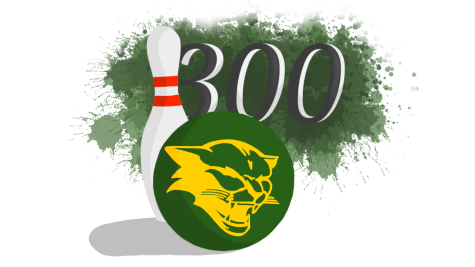 After chasing a perfect game of 300 since 7th grade, Kennedy junior Lucas Dolphin has achieved his goal, not once but twice. Dolphin is making his third year on the Kennedy bowling team one to remember.
Dolphin started out bowling a high game of 268 as a freshman. Sophomore year Dolphin scored 279. Finishing fourth in the 2020-2021 state meet, Dolphin is now one of only a few students in Iowa high school sports to bowl 300.
Bowling for 300, Dolphin remembers the moments along the way. Scores like 279, 289 and 299 taunted him as he pushed towards 300.
"You get so close, so many times," said Dolphin. "It's one of those things where you think it's never going to happen. So when it actually does, it's just like this wave of raw emotion."
There's a tendency for people to underestimate the challenge of bowling twelve consecutive strikes. There is a mental aspect that goes with the physical part.
"It's not the most physically draining sport at Kennedy by any means, but I don't think people really understand how difficult it is," said Dolphin.
The first time Dolphin scored 300, his mother Kelly Dolphin was watching live from home. Clapping, cheering and jumping up and down she was so excited she scared their dog.
When Dolphin bowled his second 300, Kelly Dolphin was there in the crowd to see him meet his goal for the second time.
"I'm so proud of him! He has worked so hard to improve and grow in the sport and to see his hard work pay off is priceless," said Kelly Dolphin.
Dolphin's family has supported him since he was five years old, and their enthusiasm hasn't waned. Coached by his grandmother, Dolphin's early career was not all about perfect games and winning matches. There were struggles along the way. 
In 6th grade, Dolphin was getting ready to roll his next ball in a tournament, but realized too late that his fingers were stuck. The ball was too small. Instead of releasing the ball, he hit the floor. As Dolphin used his left hand to break his fall, his bowling ball fell on it, breaking his hand. 
In 10th grade he decided to pursue bowling over basketball, another sport Dolphin enjoyed. With his family's guidance, his skills as a bowler have grown to where they are today.
Dolphin's hobby of bowling with his family and playing in a league grew into a passion. He carried this passion into his high school career and participated in three different bowling leagues in 2021. 
The atmosphere of competitive high school bowling is a big reason why Dolphin enjoys bowling on a team.
"I've done other sports in the past and people aren't always the nicest by any means," said Dolphin, "I think with bowling it's a smaller athletic community, so you know you have something in common with every single person you come into contact with."
As Dolphin's high school career starts to wane he is looking for what is next. Bowling might just be the ticket.
"I've gotten into contact with a couple coaches from Clark and Coe. No real decisions yet, I've still got another year to figure all that out," said Dolphin.
Not many high school athletes continue to pursue league bowling into college. Dolphin is hoping to give it a shot.
"I really hope he continues to be a source of energy and support for his teammates. I know he wants to bowl in college so I'm excited to do some college visits and see what he decides," said Kelly Dolphin.