Aaron Stecker: Always a Cougar
For 24 years, Kennedy High School has been impacted by the presence of one influential educator; Aaron Stecker. Serving as Kennedy's Athletic Director for 16 years, Stecker has been present at everything from athletic to fine art activities at Kennedy, showing his unwavering support for the Cougars at each and every event.
While he will no longer be working directly at Kennedy, Stecker isn't fully leaving behind the program he has built up. It was announced via social media on May 9 that Stecker would be leaving Kennedy in June of 2023 to pursue a career with Bound, formerly known as Varsity Bound, a website that tracks sports statistics and results.
Stecker was drawn to Cedar Rapids with the appeal of being close to family, as well as by previous connections that led him to Kennedy specifically. For his first six years, Stecker taught in the science department and then took over as the attendance facilitator for two years before stepping into the role of activities director, a position which he has now held for 16 consecutive years.
"Kennedy is a destination, it's a place you come and stay a long time," Stecker said. "It's a great place to work with great support and it's not a place you move on from." 
He credits much of who he has become as an educator to the community he works with. Coaches and directors have influenced him and his actions as he attended matches, productions, concerts and games throughout the years.
"All the coaches and directors I've worked directly with year in and year out, I've got different relationships with all of them and they've all had a significant impact on me and helped shape me, mold me and challenge me to be better and I really appreciate that from all of them," Stecker said.
For Stecker, the biggest role model he encountered at Kennedy was former principal Mary Wilcynski. He credits her for taking a chance and believing in him enough to provide him with the opportunity to take on the role of activities director.
"My biggest mentor here was Doctor Mary Wilcynski, our principal before Mr. Kline, she really was a great mentor for me as I was developing as an educator and working towards becoming an administrator," Stecker said.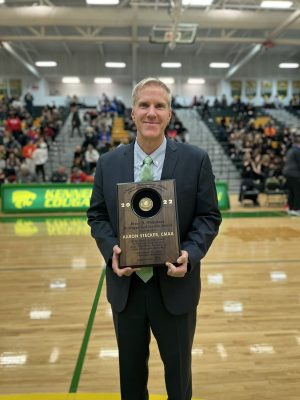 In his time at Kennedy, Stecker has attended events from the north to the south end of the school and supported students as they find their place at Kennedy. While he holds that he doesn't have a favorite, each activity brings a unique quality to the school.
"I enjoy all of our activities, they all offer something different to a different group of students," Stecker said. "The thing I love about activities is that there are all kinds of different niches for students with different interests and different goals and different ideas of what role they want activities to play in their high school experience."
Most educators can cite a group of people who have shaped them not only through their careers but as humans. For much of Kennedy's staff, including principal Jason Kline, Stecker is one of those people.
"I have learned so much from Aaron over the last ten years," Kline said. "I have really enjoyed our time together. We make each other laugh a lot. No one is irreplaceable, but some people come pretty darn close and Aaron might be the closest I will ever work with."
As for what comes next, Stecker is leaving Kennedy to pursue a position at Bound, a popular high school sports source for statistics and results. Though he is saying goodbye to working directly with the Cougars, Stecker isn't saying goodbye to his love for activities. His new position will allow him to work with coaches and teams to better the high school athletics experience for everyone.
"One of the primary goals I have is to work with schools to use the Bound platform as a way to drive funding and drive sponsorships and create more financial resources for schools," Stecker said. "My goal is to give ADs and coaches more time to do the things they want to do, and to provide them with funding and providing financial resources for their programs."
He's excited and ready for the new opportunities ahead of him but isn't forgetting the encounters at Kennedy that have led him there. Much of Stecker's Kennedy experience has been made by the community found within the school.
"There's a lot of people in these hallways that have been here alongside me for all 24 years," Stecker said. "Not having those day-to-day interactions with those folks will be different for me."
As he hangs up his green and gold, Stecker is keeping in mind everything that made Kennedy such an enjoyable experience for him. Because of the people, the atmosphere and the excitement, he looks forward to continuing to watch Kennedy students grow and find their passions, this time as a spectator.
"I really enjoy that journey, and the process and seeing what they've become," Stecker said. "I'll miss that. And I'll be watching that from afar but I won't be as knee-deep in the weeds with it anymore, I'll just be watching it, and it's never the same as being in the middle of it."