Senior Charlotte Ottemoeller Takes The Field
Charlotte Ottemoeller has bounced around the Kennedy Music Department over her four years of high school. After winning three Outstanding Drum Major awards, she was accepted into the 2022 Iowa All-State Band on the alto saxophone. On top of high musical honors, Ottemoeller was named a valedictorian for Kennedy's Class of 2023.
Of the several musical groups Kennedy has to offer, Ottemoeller is involved in the marching band, jazz 1 ensemble, show choir combo bands and Kennedy Wind Symphony. Her schedule has been nothing but chaotic.
"It has been busy, hectic and at times stressful, but overall it has been a lot of fun and a great experience," Ottemoeller said. "It has given me the opportunity to be involved in things like show choir and theater which I would not have been a part of if it weren't for band."
Though known for her saxophone skills, she wasn't always a wind player. Ottemoeller has jumped from instrument to instrument.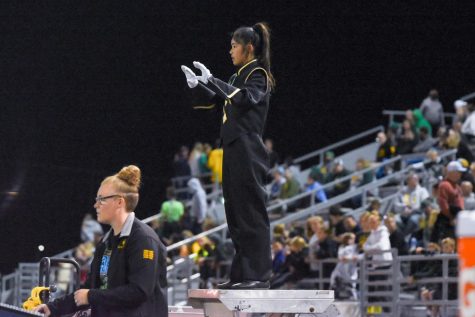 "I originally chose percussion because I wanted to play the drum set," Ottemoeller said. "But it took too long to learn the basics and move to actually learning a set. Once I was in band, I thought the alto saxes sounded really cool and I also wanted to be in the ensemble. All my friends were wind players and I had a close friend that played alto so I wanted to switch." 
The people involved in the Kennedy Band Department have made a large impact of Ottemoeller, supporting her and encouraging her to grow into roles of leadership.
"I have met my best friends being in band and grown as a leader being Drum Major," Ottemoeller said. "Being involved in multiple ensembles has also strengthened my already existing friendships in band. My favorite memories at Kennedy have been laughing in classes with my best friends with the people I met through band."
Charlotte will be attending Luther College to continue playing and studying Music Education.
"I hope to become a band director and help other young people discover band and music."