Students Inspired to Consider Communications Careers
Journalism Speaker Series: Meryn Fluker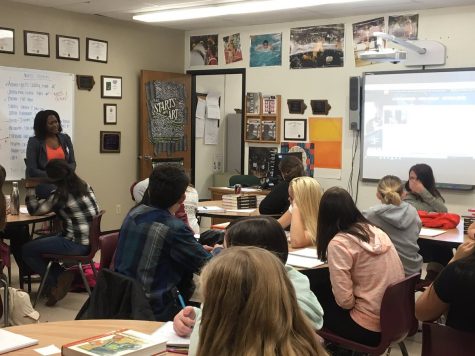 Meryn Fluker joined journalism students at Kennedy on Oct. 14 to tell them about her journey as a professional reporter and how she shifted careers to become an internal communications specialist at Transamerica.
Fluker's job at Transamerica is in communications. This is different from her previous jobs as a reporter. Writing is still involved with communications, although now, Fluker has to get the message out in the "voice" of the company.
"The hardest part about my job as an internal communications specialist is not being in control a journalist would be," Fluker said.
She still carries what she learned as a journalist with her. The resources and lessons from being a journalist come in handy at her new job, from note taking all the way to interviewing, everything is valuable.
"Everything that I've learned as a journalist I still totally use," Fluker said.
She was also a reporter for the Cedar Rapids Gazette. At the Gazette her main job was to focus on writing K-12 education stories, but sometimes she had opportunities that she described as unbelievable experiences.
"Uh, yeah I'll go see Amy Schumer for free and write about it," Fluker said. Then went into detail about her coverage of a comedian's visit to Iowa City.
One of Fluker's favorite stories is over teacher diversity. She explained that diversity plays a role in how students and teachers view the classroom environment. "It came from my own interest and gave me a personal and powerful experience," Fluker said.
Throughout Fluker's career she has learned a lot in life. "My tip to you guys is that all writers have value and so does a writer's work. Even if it's written for free, it still has as much value as if it wasn't," Fluker said. She hopes each student journalist will keep that in mind.
"Always know your value," Fluker said.