Blayne Morton: Headed for the finish line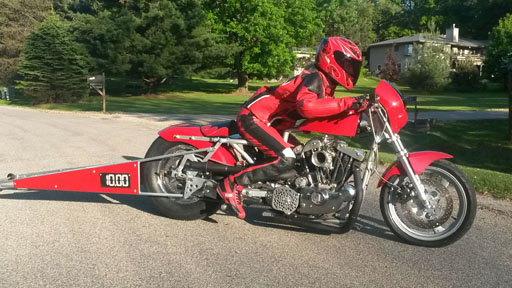 Blayne Morton, so., won third place in a drag race competition last Sunday in Earlville, IA. Morton was excited to do so well and to claim his $500 prize.
"I was surprised I did so good at my first drag race," Morton said.
A drag race is where two people are on a track racing, one in the left lane and one in the right. Two lights are at the top of the arena, one to stage the racers, and one that starts the race. Three other blinking lights are found in front of the racers, when the lights blink green you floor your automobile down the track.
"I raced my motorcycle that I built out of sportster frame," Morton said.

The race lasts for ten seconds.
"The best part is racing at a speed of 130 mph since you can't go that fast on normal roads," Morton said.
Morton got involved with drag racing through his dad's love for it. Ever since Morton saw his dad race, he thought it was cool and decided to start up himself about two years ago.
"This was the first bike i've built and I only practiced twice before race day," Morton said.
This weekend, Blayne will be competing for his second time at the same Drag Strip.
"I have improved my bike by extending the back section and putting nitrocin in it," Morton said.
After having such success last weekend, Blayne is in hopes he wins first place this Sunday.
"I think I will do better and plan on continuing my drag race career throughout my life," Morton said.