Bring Back the Cougar!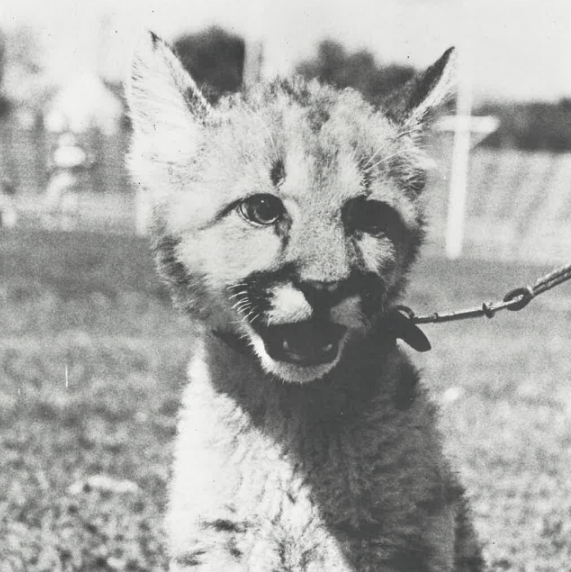 Fifty-five years ago, in the age of the dinosaurs, the very first John F. Kennedy High School was opened in Cedar Rapids, Iowa. After crowning themselves as them "Cougars," administration thought bringing in a real life cougar would raise school spirit. So they did.
The Kennedy "Cougars" have been cougarless since the 70s, yet students still use the term "Roll Cougs." How much longer can we take this treachery? As a locally famed school we must remember where we come from. To help me understand, I searched far and wide across
Kennedy for a teacher who taught when mammoth hunting was a class at Kennedy. I found our social studies teacher, Joseph Benedict. We had a deep philosophical dialogue about the effects of bringing a cougar back to Kennedy.
"We could use the cougar as a hallway enforcer," Benedict said. "He could lead the football team out of the tunnel on the field during home games."
Any of the hallway goons should keep an eye out. Washing your hands for 15 minutes will no longer be tolerated with a cougar. I asked him what he would think of a cougar on the football field.
"Obviously got some speed going down the sideline," Benedict proposed. "Not sure it could catch, but I am sure it could tackle."
A starting defensive lineman position would work great for the cougar. Heck, it could coach the whole team.
I propose that we bring back a cougar to empower our teams. In the movie "Talladega Nights: The Ballad of Ricky Bobby," Ricky Bobby Sronce put a cougar in his son's car to get him over his fear of driving because "you gotta learn to drive with the fear." A Cougar worked for Ricky Bobby Jr., now imagine how it would benefit us—giving a literal meaning to our metaphorical cougar.
As we master the art of survival from the cougar, our sports will drastically improve due to the cougar replacing Coach White in football and Coach Mckowen in basketball. Our test scores will go up dramatically due to the replacement of "Principal" Jason Kline. Dr. Kenny Cougar will transform John F. Kennedy High School into the greatest high school in America. And as for school spirit, well, that's already perfect.