Kennedy Men's Swimming Kicks off the Year With a Home Invite
The Kennedy men's swim team is back after a long absence due to COVID-19. The team hosted the first meet of the season. Linn-Mar, Washington and Jefferson all attended. The Cougars finished last, but there were some outstanding performers.
Nov. 23 was the first meet in years for some of the swimmers. The boys received multiple first place finishes, but could not keep up in total points. Coach Shawn Thomsen spoke about the boys' improvement and his hopefulness for the upcoming season.
"I have high expectations of all of them," Thomsen said. "A lot of them got varsity experience as freshmen and sophomores and this year I think they'll get a chance to grow into that role. They're clearly having a lot more fun and that's seeping down to the younger kids."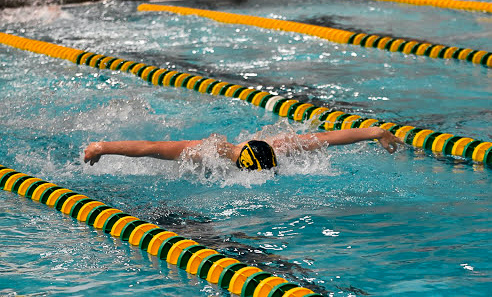 Thomsen also believes two of the freshmen had an outstanding performance.
"I have high hopes for A.J. Miller and Connor Below. As two swimmers with a lot of background we really expect to see good things from them. They're definitely pushing the boundary of making it onto the varsity lineup," Thomsen said.
The swim team is making a recovery from COVID-19 and Thomsen is looking for ways to get them back on track. 
"We have holes to fill, but I really believe in what these boys can do."