Pandemic Pastimes
Instead of the typical week-long Spring Break, COVID-19 afforded students across the world a six-month hiatus. It wasn't anticipated, but it gave students and staff ample time to give rise to new skills, hobbies, and even pets. 
Some honed skills they were already familiar with, while others came across something new and exciting. Craig Malicoat, science teacher and wrestling coach at Kennedy, learned to play the ukulele over quarantine. 
"I had thought about getting one a while ago, but before quarantine, I never really thought about playing one," Malicoat said.
Malicoat had no prior knowledge on the subject so he was eager to continue learning.
"I had no previous musical background or ability so I was starting from scratch. Every time I strummed correctly or hit the right note, it made me want to get better," Malicoat said.
Malicoat was not alone in discovering a new passion with their ample time at home. Many communities suddenly went viral and gained popularity online. 
"The community of roller skaters sprung into the limelight during quarantine, and inspired me to try myself," Zelda Seigal, sr., said.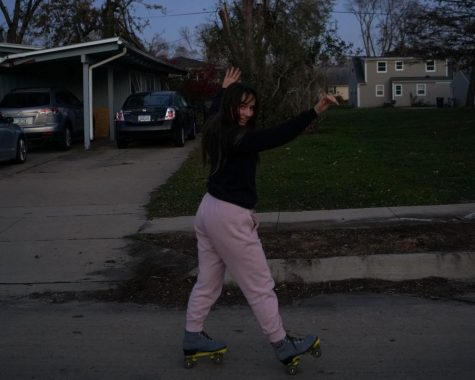 Without the quarantine, these roller skaters never would have had the online platform, using their newfound time to present their skills across social media, catering to the 90s aesthetic gaining traction today.
"I made a lot of progress, being able to spin, skate backwards, and even ride on my heels," said Seigal.
People often get invested in a topic, buying everything they need to get it started, and then putting it all into a closet to let it collect dust. Hobbies take time and focus, something we're always perpetually short on.
"A break from the expectation of constant productivity allowed me to explore new passions," Seigal said.
Which is why being stuck alone during a global pandemic, without work or school or any activities or events weighing people down is the perfect time to broaden your interests, take some time for self-improvement, and pick up a new hobby, or maybe a new friend. Braden Hoyer, sr, in the midst of the pandemic chose to get a new puppy.
"My mom one day asked if I wanted a dog of my own and we decided while in quarantine would be a perfect time to be able to train him," said Hoyer.
The worst part about getting a new puppy is always feeling like there's not enough time to bond with and train it. The newfound quarantine freetime gave Hoyer all the time in the world to build a strong relationship with his puppy and take care of business.
"All my activities I do were shut down basically so I had nothing much else to do but be with my puppy," Hoyer said.
Hoyer had more time to train and could always keep his eyes on the new pup.
"He made my quarantine a lot more fun," Hoyer said. "I would definitely recommend getting a dog in quarantine."