Happiness Inc. Seniors Say Goodbye
Senior year: a year full of lasts. For the senior Happiness Inc. members, the Going Out Concert last Thursday was their last performance as a group.
The concert was full of emotions for seniors and Happiness members Reagan Linder and Brayden Remerowski.
"It was awesome, sad, but awesome. The atmosphere wasn't like any of our previous performances. Knowing that it was our last time on stage brought out something new in all of us," Linder said.
The Going Out Concert was March 7 in the Kennedy Auditorium and many families, students and staff of Kennedy came to watch Happiness perform.
"To me, this year's Going Out Concert was a way to celebrate all that Happiness has accomplished this year with our families, fellow show choir members and alumni," Remerowski said. "It's been a privilege to be part of the Kennedy Show Choir Program, and I am proud to be a part of the group this year."
Happiness was more than just show choir for both Remerowski and Linder, because the group became a unique family throughout the season.
"Happiness has given me the best memories of high school. Even our everyday classes improve my mood significantly," Linder said. "Getting to see my friends during 5th period is like a breath of fresh air."
Just like any club or team, the friendships made in show choir can help make the season and long practices more enjoyable.
"Show choir naturally creates a community of people who all love music," Remerowski said. "Since we spend so much time together, most of us have developed a strong bond, especially the guys this year."
Some of the best memories made through Happiness weren't the performances themselves, but the things that went on behind-the-scenes.
"Part of what made this year so much fun was the guys' pep talks. Before each performance, we would all go into a room to hype each other up before a performance," Remerowski said. "This gave us a sense of family and brotherhood that is really special."
Not only was Happiness able to come together as a group, but the girls and guys made their own special relationships seperately.
"Nothing will ever top the girls changing room after a performance. Everyone is so pumped, we all dance and sing and it's so fun," Linder said.
Remerowski wanted to give a lasting impression on the audience and the other members of Kennedy show choirs, at their last performance.
"For me personally, it was more about leaving a final legacy for other students in the program. Each Happiness group leaves a mark, and it was very important for me that we left a positive legacy," Remerowski.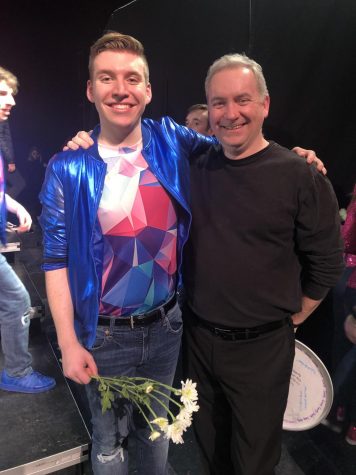 While ending a sport or activity can be tough, Linder reminisces on the connections the Happiness Inc. 2019 group made this year.
"I'm going to miss the dynamic of show choir so much. Everyone has such different personalities and when they all mesh, it makes for an interesting time," Linder said. "You can't recreate that anywhere."
Remerowski has learned several things throughout his time as a Happiness member, including teamwork, leadership, respect and consideration for others.
"After my last performance, all that I was able to feel on that stage for the last time was happiness," Remerowski said.