Striving for a Higher Education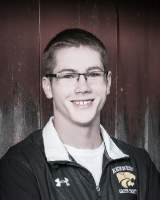 As seniors approach their final day of high school, the only thing on their minds is what's coming next. For some it's following the footsteps of their family, whether that be enrolling in higher education, going into the workforce or enlisting in the military. For senior Dawson Gibbons, it's about paving his own path to college, as the first one in his family to attend a university.
In the fall, Gibbons will attend Calvin College, located in Grand Rapids, MI, majoring in International Relations and Data Sciences. As a hugely involved member in the Chinese program at Kennedy, it's natural Gibbons is also minoring in Chinese.
"My family has always been pushing me towards education, just because that's always been a huge aspect for them," Gibbons said.
Gibbons' father entered the military straight out of high school, and both of his parents understand that college isn't the only option for Gibbons or his younger brother, but they reap that some sort of skills based learning after high school is mandatory.
"My dad definitely pushed both my brother and I to go do something," Gibbons said. "That way we had the opportunity to really go and do what we wanted to do."
As the biggest proponent for Gibbons' education after high school, his father is an extremely important facet regarding Gibbons' plans for higher education.
Gibbons' desire for a role in international relations stems from his active involvement in the social studies department at Kennedy. He is currently taking four social studies classes at Kennedy and entering a major focused on global politics, Gibbons should be well prepared.
Leaving the halls of Kennedy for the last time on May 23, Gibbons will pave his own path towards higher education. As the first in his family to attend college, Gibbons looks forward to seeing what the future holds.