State Wrestling
From the past weekend, Cedar Rapids Kennedy sent out five state qualifying wrestlers to compete on behalf of their Kennedy family, and for their honor as wrestlers. Senior Ben Sarasin, juniors Cam Jones and Noah Cunningham, and sophomores Dylan Falck and Josh Vis, traveled to the Wells Fargo Arena in Des Moines to compete in the state meet.
Sarasin entered in the 170 weight class, as he weaved through the competition and finished out as the undefeated 3A state champion. Starting from Thursday to Saturday, of back to back wrestling, Sarasin finished his senior year with an accomplishing turnout. His fourth and final match was against Anthony Zach, Sarasin finished the match with a 9-5 decision. Sarasin finished his season with a perfect 40-0.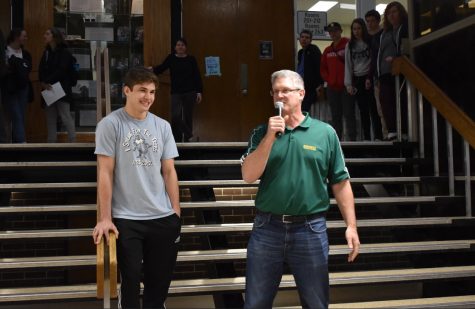 Jones continued on his own path and wrestled in the 220 weight class. He finished his Junior year with three matches at state. His final match was against Tanner Teem, Jones lost with a finishing score of 10-3 in a decision.
Cunningham weighed in the 145 class, finishing his junior year at state. Cunningham wrestled two matches, his last one was against Alan Ayres. Cunningham lost, ending with a score of 17-10 in a decision.
Falck approached the 132 weight class, but had an abrupt stop to this season as he obtained a neck injury and was cared to by trainers and staff over the weekend. He now has a fractured C3 vertebra, but there is no need for surgery. Falck is on a road of recovery and will hopefully be back wrestling again next year at state for the Cougars. His last scheduled match was against Ethan Sorenson, but from his injury, Falck obtained a Medical release.
Finally, Vis fought in the 285 weight class. As the Sophomore finishes his year, he proudly obtained 7th place at his first State tournament after five matches. Winning his last match against Troy Monanhan, with 3-2 in a decision.
Overall, the team scored 33 points and placed 19th in state. Sarasin obtained first with 26 points. Jones obtained an unknown place with one point, and Vis got seventh place with six team points. Until next year, students hope to see the underclassmen and juniors rise to the challenge and expectation that Sarasin set.