A Loving Chance: A Couple's Path to Parenthood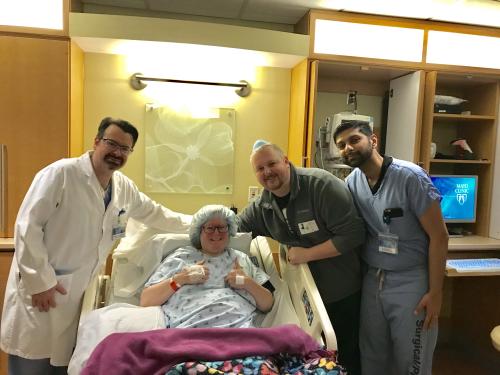 The hardest part for teacher Leah Howard was a feeling of helplessness. Apart from routine steps a mother can take in a pregnancy to improve a baby's health, Leah could do nothing to change Lydia's diagnosis of Spina Bifida.
For Leah and her husband Sean, one thing is certain about their unborn child, "We will love Lydia no matter what."
Spina Bifida is a condition which can form during a baby's development. It occurs when the spinal cord does not completely seal, leaving a gap which prevents the connection of nerves, sometimes crucial, to the brain. The gap left untreated, can in many cases lead to paralysis and the development of learning disabilities.
"When we were told that Lydia had Spina Bifida, I started to think about all of the difficulties that my brother had growing up," Howard said, whose worries associated with the complication are deeply personal, as her 38-year old brother has Spina Bifida. "All the surgeries he needed to have, learning disabilities he experienced…how hard school was for him, and just kind of thinking about bullying and how kids treated him in school. Because of this, I worried that my daughter would go through these same issues."
Lydia's diagnosis of Spina Bifida is not the first difficulty to mark Leah's path to motherhood.
Leah and her husband Sean got married in July 2014, and according to Leah, they started almost right a way to make a family.
"I knew it probably wouldn't happen right away, but I was surprised that it was as difficult as it was for us to get pregnant," Howard said.
The difficulties Leah did not foresee, were that the process would take more than three years, a try with fertility promoting medication, and three unsuccessful attempts at Intrauterine Insemination (IUI).
After the lengthy struggle, in September 2017, Leah discovered she was pregnant and was able to share with her husband the exciting news.
In the next months, they joyfully discovered the baby was a girl and gave her the name of Lydia Elizabeth Ann Howard.
All this information was shared with family, friends, and even Leah's students.
Then, on Dec. 27,  2017, Leah and Sean received the news at a routine checkup, through an ultrasound, that Lydia had Spina Bifida.
From there, they decided that a reasonable next step would be to visit Mayo Clinic, in Rochester Minnesota, to get further testing and the advice of experts in roughly two to three weeks following diagnosis. This testing would determine whether or not they qualified for surgery.
"Those were really hard weeks. We didn't know how severe the disability was, all we knew was that the baby had Spina Bifida," Howard said about the stressful situation.
After Leah and Sean visited Mayo Clinic and spoke to different specialists, they were thrilled to discover that they were eligible for a fetal surgery, which would give Lydia the highest chance of avoiding the many challenges that come with Spina Bifida, which Leah saw first hand with her brother.
Leah explained this by saying, "This is an option my parents never had with my brother, which is why the opportunity would be difficult to give up."
There are some risks involved with the surgery, but despite these, they believe that it was the best course of action for Lydia and her future.
Sacrifices have also been made to help Leah be in Rochester for the surgery and to continue to stay close by for monitoring. She will stay near the Mayo Clinic in a Ronald McDonald house with her mother until Lydia is born and she is healthy enough to be released.
The fetal surgery was performed on Feb. 6, and according to Leah's doctors went smoothly.
Although one step towards a brighter future for Lydia has been made, the journey for the Howards is not over. For more updates, click here.