Winter Showcase 2017
Come support the Kennedy Music Department!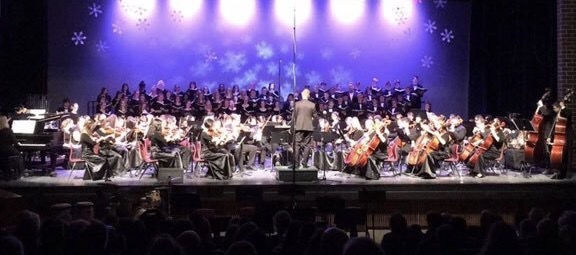 Kennedy High School's 2017 Winter Showcase is tonight at the school.  There will be a silent auction, pre-show entertainment, and complimentary food tastings starting at 6 p.m. The showcase begins at 7 p.m. with performances from choir, band, and orchestra.
"My favorite thing about it is just the amount of people that come support the Kennedy Music Department, and also the winter theme because it's mostly Christmas music and it gets people in the holiday spirit," Sage Decker, jr., said.
Decker as well as other musicians and singers will be performing at the showcase. This year Decker will be performing with both the choir and will be playing viola with the orchestra.
"This concert is important because we can show the public what we've been working on, and performing for an audience is valuable to us," Decker said.
Each branch of the music department at Kennedy contributes one or two baskets to sell in the silent auction. This event is sponsored by the KHS Foundation for the Performing Arts (FPA), and is their signature fundraising event of the year. The money helps each branch of the music department pay for things like uniforms, sheet music, and helping kids out who can't afford to be in the program.
Tickets will be sold by the north lot entrance. Don't miss this lively event, and come support the Kennedy Arts.