Plain Brown Wrapper Ready for Students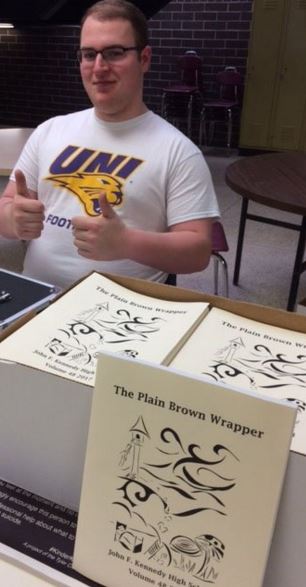 The Plain Brown Wrapper is hot off the press and selling this week in the foyer.
The student-produced literary magazine is published every spring, and features artwork, fiction, non-fiction, and poetry by Kennedy's students and staff.
Leah Howard advises PBW, as well as teaching LA 10, AP Lit and Reading Workshop. She started advising the literary magazine as a student teacher, in the spring of 2005. When she got a job at Kennedy the next fall, "I took over advising then."
She has a PBW class which meets every other day for 8th period during spring term. The class is a small group and consists of student members who discuss the work submitted and talk about what they like, or ways they could improve the piece.
After looking over the submissions, students vote anonymously, deciding on what pieces to include in the PBW.
"I think this helps students because those published in the magazine have that sense of pride people appreciate their work." Howard said.
She believes being on the staff of PBW has benefits. "It helps with literary analysis skills and being able to participate in discussion, it helps with their writing, because we discuss good writing."
Students involved can also put this involvement on their resume or future applications.
If students want to submit a piece, they need a green form which can be found in the IMC, or any Language Arts room. Students can also email their submissions to [email protected] Submissions are usually accepted throughout spring term. The deadline for this year was April 7.
"It gives people the opportunity to submit something that they want to be known for," Shyanne Howe, fr., said.