Kennedy students, faculty mourn death of 2016 graduate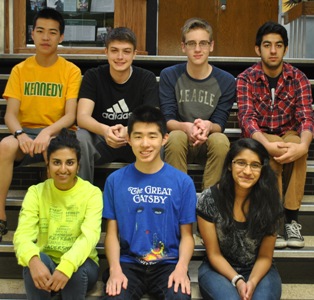 Students learned this week that 2016 Kennedy graduate Sean Wu passed away on April 8 in Iowa City, where he was a freshman at the University of Iowa.
The visitation for Wu will be held on Friday, April 21 from 4 p.m. to 8 p.m. at Cedar Memorial Park Funeral Home. Following the visitation, will be a Celebration of Life on Saturday, April 22 at the Iowa Memorial Union starting at 2 p.m.
Wu was a well-recognized student leader, involved in almost everything — from Young Democrats to the Kennedy speech team to National History Day competition. He worked behind the school's scenes to produce many films/movies, he was often at sporting events cheering on the Cougars, and he was extremely interactive with many teachers and students around the building.
Throughout the week, Kennedy counselors were on hand to give extra support to students and staff.
"Sean was one of the first students I got to know here at Kennedy, four years ago when I became Principal. He was my go-to guy when I needed ideas or just a laugh," Jason Kline, Principal, said.
Several students were also friends with Wu and have great memories of him.
"I remember when we were in elementary school he carried around a really worn out and cute stuffed animal dog, named Diggs, and had a whole comic book series about Diggs. Sean was so creative and bright, the world will miss his wit and creativity so much," Moira Green, sr., said.
Wu leaves behind a twin brother, Austin, and parents Una and Dave Wu.
Wu will be greatly missed here at Kennedy and in the community.