Raise the Roof celebrates 13th year
Seven middle schools and 12 high schools participated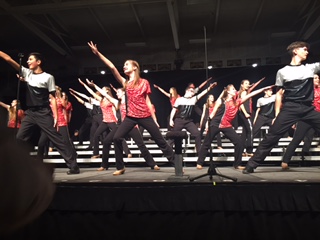 Seven middle schools and 12 high schools participated this year in the Raise the Roof show choir competition hosted by Kennedy High School. This is Kennedy's 13th Raise the Roof.
McKinley Middle School's "Classic Edition" won 6 out of the 7 past competitions including this year's. The pep and open class results are more scattered, with the only school winning more than one year in a row being Ankeny Centennial "spectrum". This year, Waukee's "Millennium" was the grand champion of the open class. The grand champion of the pep class this year was CR Washington's "Celebration".
Raise the Roof runs from 8 a.m. to midnight, an event put on by the show choir kids and parents at Kennedy High School. They volunteer by selling tickets, food, and helping out in many other ways such as getting the gym ready for the day and cleaning it after.
"It was incredible to see how many people helped and made such a great day possible," said Chantuers show choir member Hannah Wieland, fr. As an example, she arrived at at 9 a.m., performed at 11:20 a.m., and stayed to help clean up until 12:30 the next morning.