New freshman program helps students "Gear Up"
Class of 2020 has some advantages around Kennedy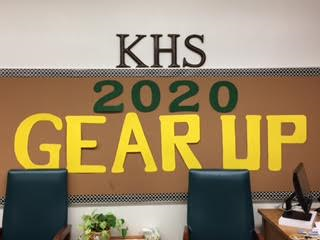 The class of 2020 has some advantages around Kennedy High School, though most freshmen aren't yet aware of  Gear Up program.
Otherwise known as Gaining Early Awareness and Readiness for Undergraduate Programs, is a federal program to help students become ready for college and future careers.  The program is set up in a school to serve a group of students beginning no later than their seventh grade year and it follows the students through high school. Gear Up funds are also used to provide college scholarships.
At Kennedy, the Gear Up program is specifically focused to assist 2020 graduates.
Leading this program is teacher, Laurie Mead, who deals with 499 current freshman students as they progress through their years at Kennedy.
"I have been working with 2020 students since their kindergarten year," Mead said. "It felt like a natural progression to help these students through high school."
Current freshman at Kennedy have been visiting Mead's room throughout the school year to be assisted through Gear Up.
"My favorite part is when I hear students react positively to preparing for their future," Mead said. "The most recent comment from a student was that the gear up orientation made expectations more clear and real."
For students, there are videos and surveys online to start with Gear Up, and then students have access to a 4-year GPA calculator, a resume tracker, and many more college preparation tools.
Emily Krall, fr., has visited the Gear Up classroom at least five times this year.
"I also go in there a lot just to eat lunch or see my friends, Mrs. Mead is very welcoming," Krall said.