Advent to Epiphany
Engaging the Heart of Christmas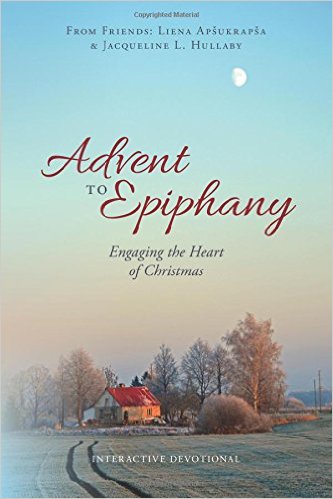 Long nights, late phone calls, fails and accomplishments, prayers, self-discovery, building faith and inspiring others, sums up Jacqueline Hullaby and Linea Apsukrapsa's experience in publishing their first book, Advent to Epiphany: Engaging the Heart of Christmas.
On Oct. 23, co-Authors, Hullaby and Apsukrapsa published their first book on Amazon using Create Space, which is a division on Amazon for self-publishers.
Hullaby teaches French at Kennedy High School. Apsukrapsa moved to America in the late 1990s from Latvia, Europe to continue her education.
"She's my best friend and can always get me to do things. Linea suggested that we should write a book and we had been talking about it over the phone, so we finally decided to do it," Hullaby said.
The book is a series of devotionals for Advent that doesn't stop on Christmas day, but continues all the way to Epiphany. Generally, Advent is a period from the last Sunday in November until Christmas day.
"Jesus came into the world and people who celebrate Advent are thinking he can still come to me today, in a new way," Hullaby said. "Our goal was to help people focus on that especially at such a busy time. We wanted the book to be interactive in a practical way."
After deciding to write the book, Hullaby and Apsukrapsa spent about a year looking over texts in the Bible and praying in conversation together, discussing the books ideas.
"Linea was the one who had this deep conviction about writing the book, but we did share the writing responsibilities. It was a very collaborative experience," Hullaby said.
Almost every Sunday for a year they would talk on the phone about a text and pray, then ask what the text was saying to them.
"The way it flows is when you read something you go into that scene with all your senses. The book describes it as if you were really there," Hullaby said. "For example, if you were in a stable what would it smell like, what would you hear and see, and who would be there."
Once finished writing, Apsukrapsa went to a Christian writing conferences and talked about the marketing and proof reading of their book.
After the conference they decided to send the manuscript to an editor. She helped them edit. "We also enlisted someone to proofread our book just because when you're writing something, you're so used to seeing it you can't find your mistakes," Hullaby said.
Once edited and proofread, the manuscript was sent digitally to Create Space who printed it off. That's when the two started marketing.
"The book is one of my greatest accomplishments. It's a long process and a lot of work, but I think it's very cool to see it in your hand with my name across the cover," Hullaby said.
It's an accomplishment for Apsukrapsa too. While growing up in Latvia, she had a very negative experience where one of her school teachers who diminished her writing and told her that she would never be a writer.
Then one Sunday at church, a pastor came up to Apsukrapsa and told her she should really start writing.
"For Apsukrapsa this book was a freedom to have one person say you'll never be a writer, you'll never do anything, then to have someone come up to you and say you really need to start writing. The miraculous thing is she's writing in a second language,"  Hullaby said.
The two co-authors have different purposes in publishing this book.
The authors are passionate about leading people to grow spiritually. "It's been really cool to hear people talk about how the book has touched them. I think that's the greatest reward," Hullaby said.