What You Need to Know About the Dakota Access Pipeline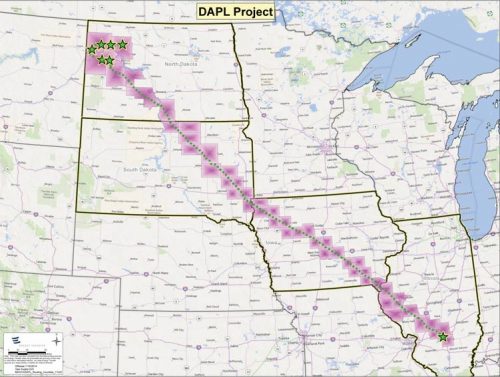 The Dakota Access Pipeline is supposed to support American energy needs, but at what cost?
Designed to safely carry crude oil from the Dakotas to already existing pipelines in Illinois, the Dakota Access Pipeline, once completed, will pump 470 thousand barrels of oil a day across the Midwest.
However, the pipeline has sparked controversy among several groups. Climate campaigners are protesting the pipeline in continuation of their fight against fossil fuels. The Sioux Indian tribe are fighting the construction of the pipeline as they say it will cross Sioux ancestral lands and could potentially affect water sources across the plains. The New York Times editorial board put it amply enough last week:
"A pipeline may well be the most profitable and efficient way to move a half-million barrels of crude oil a day across the Plains. But in a time of oil gluts and plummeting oil prices, is it worth it? Is it worth the degradation of the environment, the danger to the water, the insult to the heritage of the Sioux?"
According to KCRG, Western Iowans are involved in protests in the state and other parts of the Midwest.
Spokeswoman for the oil company building the pipeline, Energy Transfer's Vicki Granado said the pipeline was "nearing completion" in Western Iowa.
The pipeline protests even extend to Eastern Iowa, where Iowa City citizens gave protesters travelling to the Dakotas winter clothes, food, and propane, among other commodities.
President-elect Donald Trump, in his 100 day plan published by NPR, states he will "lift the Obama-Clinton roadblocks and allow vital energy infrastructure projects," which could mean streamlined approval for the construction of the Dakota Access Pipeline.
Leave a Comment
Your donation will support the student journalists of Kennedy High School - IA. Your contribution will go towards the purchase of a new lens for our photographers.