A Mission for Nicaragua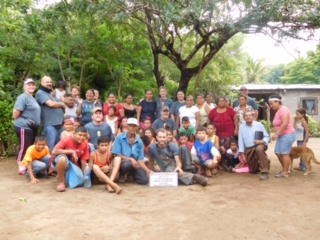 During the past four years, Syndy Richey, Advanced Placement and PACT coordinator at Kennedy, has taken a mission trip to Nicaragua every other year. This year, marking her third trip, Richey flew from Cedar Rapids, Iowa to Francisco Cambio, Nicaragua.
The citizens of Francisco Cambio are refugees from Hurricane John, which demolished their village back in 1994, lasting for more than thirty days.
The ultimate goal for Richey's trips is to not only drill a safe, usable, drinking well, but also to educate the young children about the importance of hygiene.
Richey was one of nine other missioners, a tight-knit group from Houston, Texas.
"We made crafts and explained to the kids the importance of health and how to get rid of germs. We told them that if a fly landed on feces, and then landed on their face, they now had poo on their face. They giggled at that," Richey said.
Richey was in Nicaragua for seven days. The first area she and her group began drilling in was unsuccessful.
"When we drilled, we kept hitting blue rock. Blue rock is the hardest rock found in Nicaragua," Richey said.
The well site was moved and after digging for a few days, water was found 105 feet deep.
"The experience was scary and hot," Richey said.
Scary because there were language and cultural barriers.
"I know a little bit of Spanish from working with the teachers at Kennedy, but I still couldn't understand much of what was spoken," Richey said.
The Nicaraguan women carried five-gallon buckets, filled with water, back to the villages to distribute the water.
"The culture was different, especially the gender roles. The women there are superstars. They worked very hard," Richey said.
Richey recalls her favorite memory as the times she spent with Abigail, a little girl from the village. She will be presenting more about her trip in the auditorium during SMART Lunch in November.