A Series of Unfortunate Goodbyes: Jan Perkins
Spanish teacher says adios after 30 years at Kennedy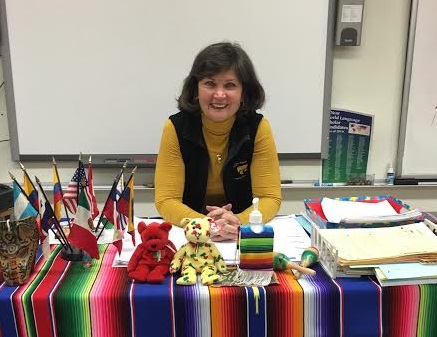 Spanish teacher Jan Perkins got the influence to pursue a career in world language because of one of her high school teachers. She has been teaching at Kennedy since the fall of 1986 and will retire after this school year.
"My favorite memory at Kennedy is all of the phenomenal students and the great staff I've gotten to work with," she said.
Perkins attended Western Illinois University and continued on to get her master's degree at the University of Iowa. Perkins started teaching at Cedar Rapids McKinley Middle School when it was a junior high and she spent eight years there teaching Spanish and French.
"I love Kennedy because of the size and I feel as though we are treated like professionals," Perkins said.
When she leaves, she will miss all of the staff and her past and present students.
"I've been thinking about retiring for a few years once I knew that I could," Perkins said, "but this particular year seemed like the best time."
As a retiree, she plans to spend time on hobbies she has put aside, spend more time with her husband and family, and she is also thinking about subbing for teachers.
"New students should take advantage of the sports and clubs at Kennedy and get involved in extracurricular activities," Perkins said.
She believes that Kennedy's students and staff are what make the school and the profession of teaching so great.