Serving the community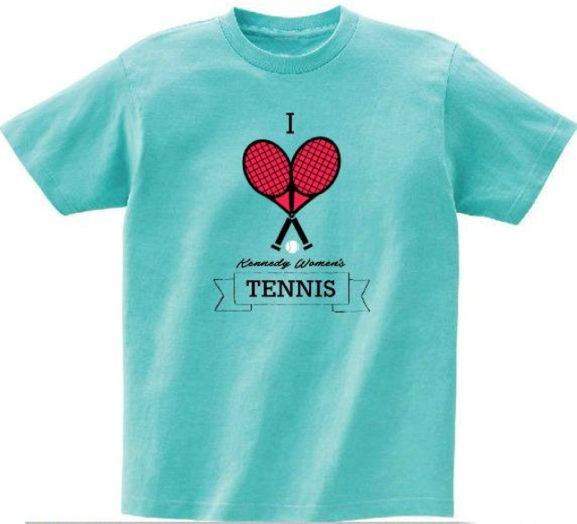 The Kennedy women's tennis team is turning their passion for tennis into a noteworthy cause designed to help young cancer patients. Head coach Erin Seely came up with the idea after discussing the project with her players. She wanted them to get involved in their community, and was open to any ideas that they came up with.
"I believe it is important to expose players to things they don't normally think about and to not take for granted how lucky they are that they don't have to deal with this terrible disease," Seely said.
The team immediately knew that they wanted to incorporate fan shirts into the fundraiser. They also wanted to help to improve their community, and that is how they came up with the idea to help fund a cancer center.
Lydia Yang, sr. was ecstatic when plans to sell the shirts were finalized.
"I was really excited to have a fan shirt for tennis because we hadn't in past years. Our coach is very passionate and involved with the children's cancer programs in the community so it was a great way raise money for a great cause and get support for tennis," Yang said.
The money raised in the sales will go directly to the Holden Cancer Center at the University of Iowa. The fundraiser allows them to not only contribute to a great cause, but also to draw attention to their sport. The sidelines have been less than packed, and the girls are hoping that the awareness for both cancer and tennis that they raise will change that.
Senior Lauren Gifford came up with a design, and the team quickly launched their t-shirt sales. The front of the shirt features two tennis rackets, and it reads "I heart Kennedy Women's Tennis." The shirts can be either blue or gray, and can be purchased for only $15.
While she has not been personally impacted by cancer, Yang relates to the cause.
"I've been lucky enough to not have anyone in my family or close to my family suffer from cancer. My dad recently created a company that works on specialized cancer treatment. Cancer treatment is extremely expensive so I believe we should all try our best to help families that are having difficulty paying for treatment costs," Yang said.
Seely also relates to the cause, although her own connection is more personal.
"One of my children regularly goes to a U of I Pediatric Specialty Clinic. When I was there I saw firsthand the need for more accommodations for teens, starting with larger chairs.  My son looked like he was in a scene from the movie 'Elf.'  Several children of close friends are also currently patients so it's another way of helping them and others in a similar situation," Seely said.
So far the girls have sold over a hundred shirts, and they hope to sell more in the next week. If you are interested in purchasing a shirt, you can purchase one from any of the players. The sales will continue until this Friday, April 15.
If you do not want to buy a shirt but want to support the girls, you can also attend their next meet. It will take place on Tuesday, April 12 at Kennedy.