Cheerleaders go above and beyond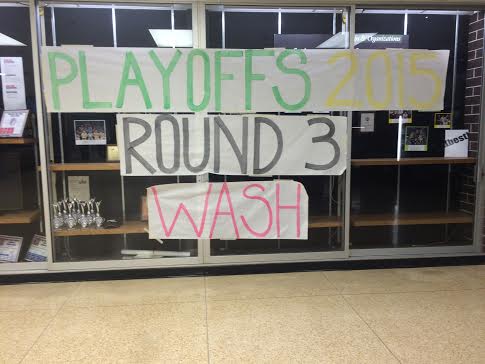 Kennedy athletes are on a roll this year; but, don't forget the impact of the Cougar cheerleaders.
"There'd be so much less to do in the student section if you didn't have that background noise," Kennedy Cheer Captain Katie Beer, sr., said.
Since the Kennedy Cougar football team made it to state, the cheerleading squad of 16 girls has been helping to motivate the football team. They've been decorating the foyer and locker rooms with streamers and signs that say "Go Cougars" and other motivational sayings.
"We've been making banners and signs that support the team and help motivate the players," Coach Shelby Patterson said.
Another way the cheer squad shows support is by cheering at the games. When cheering at the playoff games the girls said there were a lot more rules issued by the Athletic Association regarding what they could wear and what stunts they were allowed to perform.
"The stakes are a lot higher because I know every game could be my last since I'm a senior…it's really just about helping to motivate the crowd to get the guys motivated," said Molly Osborn, a member of the team.
Cheer is something that hypes up the crowd and creates some noise. The girls feel that cheerleading is vital to the football environment.
"The goal this season I think is to keep getting better because sometimes it's easy to give up towards the end because you have like three games left, but I think we're just going to try to continue doing new things through the rest of it and keep it interesting," Beer said.
Ever since Patterson has started to coach the cheer squad, the cheer team has grown in participation and skill level.
"About 40 to 60 girls go out and only a select few make it on the team," Osborn said. "They have to know what they're doing with the jumps and stunting."
Next year the cheerleading squad hopes to have a competition against other 4A high schools.
"I would describe our team's atmosphere as stressful with positive relationship between teammates," Patterson said. "Cheerleading is all about promoting team support and I think we contribute the most to that."