Cougars keep rolling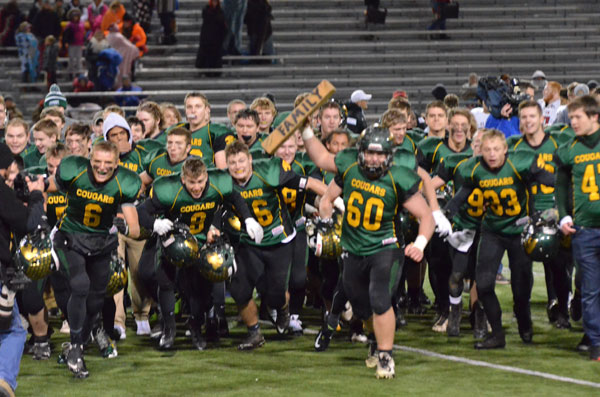 Victory has been the word all season for the Cougar football team. On Monday night the Kennedy football team took home yet another win against the North Scott Lancers making their record 11-0. The game ended with a final score of 49-7 at Kingston Stadium.
The Cougars had already played the Lancers once this year on September 11 winning 42-0.
The Cougars move on to play in the last round of playoffs this Friday at Kingston. They will take on the Washington Warriors at 7 pm. The Warriors are 10-1, loosing one game earlier in the regular season against Kennedy.
"Washington is a very good football team and it was a close game the first time we played them," Running Back Tyler Dralle sr., said. "If we stick to our game plan and control the line of scrimmage, we will come out on top again."
By the end of  the first quarter the Cougars were leading 14-0. At half time Kennedy had scored 14 more points still dominating 28-7. In the third and fourth quarters the Lancers couldn't seem to stop the Cougars making the score 49-7.
All season the football team has ran off the term family, showing how close the team members are to one another. They have shirts that they wear the day before their game day reading "Brothers.," and on the other side it says, "Family."
"It brings us closer and makes us have each others backs through everything that could happen in a game," Offensive Lineman Mason Jacobs sr., said.
If the Cougars can take home another victory on Friday night they will move on to play next Friday in the quarter finals. Every game after this Friday's game will be held at the Dome on the University of Northern Iowa's campus.
Playing a conference rival on Friday will make for an exciting game Jacobs says. "There is a lot more that we are playing for other than another win. We are playing for another game with out brothers."