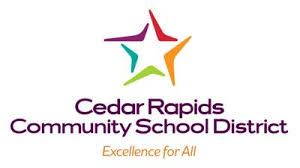 An all-campus closure occurred for the entirety of the Cedar Rapids Community School District on Oct. 2 due to an unspecified social media threat made towards the district. This threat required the district to put tighter restrictions in place following the reopening of schools to ensure the safety of students and staff.
Following the social media threat, the Cedar Rapids Police Department along with the Iowa Division of Criminal Investigation has investigated the incident to determine the full situation. As of Oct. 5, the investigation has led to the arrest of a 14-year-old from Cedar Rapids. No additional information about the juvenile will be released due to their status as a minor.
"We are deeply grateful for the diligent and unwavering efforts of the Cedar Rapids Police Department," Tawana Grover, CRCSD Superintendent said. "Their invaluable assistance and resources were paramount in ensuring the safety and security of our community."
Safety precautions that went into effect on Tuesday, Oct. 3 included prohibiting non-clear bags and narrowing the points of entry and exit to the building to designated entrances. Through these predetermined entrances, students' clear bags would be searched and if a non-clear bag was brought, it would be confiscated until the end of the school day.
These safety precautions will stay in effect through Friday, Oct. 6. Kennedy Principle Jason Kline has said further procedures will go beyond this week. The quick movement of students from class to class will better allow teachers to monitor the halls.
"In order to expedite entry in the morning, students should report directly to either the cafeteria to pick up their breakfast, and then proceed to their first block class, or go directly to their first block class," Kline said. "We do not want any loitering in the hallways."
Grover intends to get CRCSD back on track as fast as possible, implementing the "Return to Learn" plan in the face of such a major disruption. 
"While we have resumed classes with our return to learn plan, our work toward creating a safe and secure learning environment does not stop here," Grover said. "Thank you for your understanding and your cooperation as we work together to ensure the safety of our school community."
Officials say that elements of this case remain under investigation. 
CRPD reminds us that; "School Resource Officers and police officers remain vigilant in providing secure, safe learning environments for students and staff."