Class of 2026 Holds a Valentine's Day Movie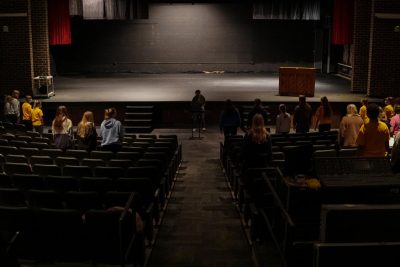 Freshmen student council is holding a Valentine's Day Movie viewing in the Kennedy auditorium on Feb. 9. The movie selected is "10 Things I Hate About You" and will start at 4:30 p.m. 
"The student freshman student government had been going back and forth deciding whether we should have this movie just be designated for valentines day or not," freshman Paisley Knight said. "In the end, the majority of us decided that a Valentine's Day theme would be more fun."
Valentine's Day may be a holiday people dread since they don't have anyone to spend it with so the student government thought this would be a good way to shine a positive light on the holiday and help raise money for the Class of 2026. 
"The movie will be shown in the auditorium along with food being served in the cafeteria,"  Knight said "We hope that people will not make a mess in the auditorium but that if they think they will, they will eat in the cafeteria. We will be selling [cheese and pepperoni] pizza and fun dip along with different types of drinks."
Principal Jason Kline has put his trust in the Class of 2026 along with all Kennedy students to keep the auditorium clean and potentially have this opportunity again, not just for Valentine's Day but for other holidays too. The Class of 2026 is hoping everyone has a good time and helps to raise a profit for their class.