Ringing in the New Year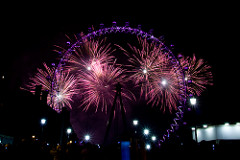 Winter break starts on Friday, Dec. 22 and classes resume on Tuesday, Jan. 2. Students are feeling really excited to celebrate New Year's Eve with their family and friends.
"New Year's Eve is a very important holiday for me, because it's a time when my family and I are all together," Raafa Elsheikh, fr., said. "My family and I like to keep New Year's Eve special, we usually have various decorations, such as confetti, streamers, and balloons."
Elsheikh's family start of the night by watching movies that will be able to keep them up all night.
Freshman Shefa'a Tawil and her family always prepare food in the evening because she celebrates with most of her family at night. Then they have their New Year's Eve dinner at her house with everyone there.
"I have a big family and we aren't together all the time, so spending New Year's Eve with them every year makes me happy," Tawil said. "After having dinner, my family and I gather around the bonfire to share stories."
Tawil says sharing stories about the best memories of the year is "special" for her family. Family members tell stories of when they spent time together, which makes everyone feel emotional.
Junior Mackenzie Pattridge describes New Year's Eve as "festive" because she celebrates it with the people she loves. They do a lot of fun activities together, such as have sleepovers with friends, prepare and cook festive food, and watch the ball drop with her family and friends.
"My dad always makes four-cheese fettuccine and we have sparkling juice in a fancy glass for all the kids," Pattridge said.
Pattridge and her siblings celebrate New Year's Eve with their friends during the day, and later on they spend time together with their family.
"I love celebrating New Year's Eve because it's a fun holiday and I'm surrounded with the people I love," Pattridge said.