Brain Bee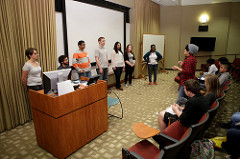 Students who enjoy psychology and biology that want to earn some money have a unique opportunity to do so next month.
The University of Iowa is hosting their annual Brain Bee on Feb. 6.
The all-day event begins with coffee and tour sign ups in the EMRB Atrium. Afterwards participants and their families are invited to tour the campus. When the tour has been completed a lunch is provided, and participants can use this time to study some more.
The meet itself takes place in the school's BSB auditorium. Parents can observe the competition from the upper balcony of the room.
The competition consists of a series of multiple choice questions. All of the questions come from the study guide Brain Facts.
Prizes include $100 for third place, $200 for second place, and a $1,500 travel award for first place. The first place finisher can use their travel award money for expenses that they face on their way to the National Competition in Baltimore, Maryland.
Last year, the third, second and first place finishers were all from Kennedy.
Arshi Munjal, who placed second, would recommend the event to other students considering participating.
"I actually loved brain bee because I don't think that enough people really take time to understand their own bodies. Brain bee has helped me to understand why I am the way I am because the brain controls everything we do in our daily lives," Munjal said.
Students that want to compete have access to the free study guide on the Eastern Iowa Brain Bee's website. They can also pick up a printed copy of the guide in Kennedy Science teacher, Brad Horton's room. The questions have been known to be challenging and preparation is something that will need to be done ahead of time, as it is highly competitive.
"My advice to people participating would be to not think of it as a bunch of information to memorize but more of a 'let me learn something about myself,'" Munjal said.
For more information, see Mr. Horton in room 226, or follow the link below.
http://neuroscience.grad.uiowa.edu/baw/brain-bee