Beyer accepts offer to become a Hawkeye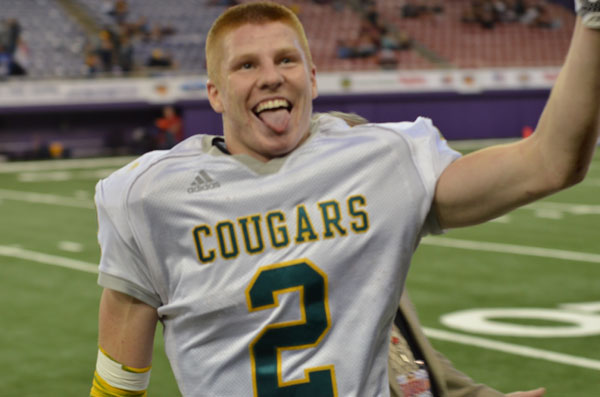 Senior year certainly seems to be treating Shaun Beyer well. Last week Beyer, the 6-foot-5, 210-pound tight end for Kennedy high school helped to close out the school's football season 13-1, the farthest a team has ever advanced in school history, and today he was making news again as he was offered and then officially accepted a scholarship to play football next year for the University of Iowa Hawkeyes.
Upon being offered, Beyer said he was "speechless".
"It was my dream school. I was definitely excited and I accepted it right away when I could finally talk," Beyer said.
Beyer had received a handful of offers from other schools across the nation and had originally committed to play football at North Dakota State, but that all changed the second Coach Ferentz made him the offer he just couldn't pass up.
"Coach Morgan has always kind of been in my corner for the whole recruiting process and he is just an all-around great guy. He has since day one said 'I want you to be a part of this team, I want you to be an Iowa Hawkeye and he said one way or another I want to get you on this team and I will always be in your corner,'" Beyer said. "I grew up an Iowa kid, going to Iowa games and it's a dream come true. I really couldn't ask for more. Anyone could have offered and I probably would have went to Iowa."
And while Beyer did have an offer from another BIG10 school, Nebraska, it just didn't have the same allure that Iowa did.
"Growing up and being an Iowa fan my whole life was the main reason that I picked Iowa," Beyer said. "You grow up going to games, wearing Hawkeye jerseys when you're little and throwing the ball with your mom or dad in the yard and saying you want to be a Hawkeye when you're only in preschool. I've been a lifelong fan and that's what really made the difference for me."
Beyer went on to say "They have amazing facilities, amazing coaching staff and just amazing people all around and right now they are ranked fourth in the nation which is a little cherry on top. Everything about them is just amazing."
Among the many people that are celebrating Beyer's recent commitment is fellow senior teammate and good friend, Dalles Jacobus. Jacobus thinks that Beyer's commitment to play for the Hawks will in turn help inspire next year's seniors.
"It (Shaun getting a scholarship) just shows the underclassmen how much hard work can pay off because they've seen us all year. Shaun has always worked hard but right after junior year something clicked and he took it to a whole new level and I can't wait to see what he brings to the Hawks," Jacobus said.
Jacobus believes that the best attribute Beyer has to offer is his stellar work ethic both on and off the field.
"It feels great just knowing that I was there for his journey and watched it all," Jacobus said. "I texted him when I found out and he replied 'keep working, get your scholarship and join man!'"
And Jacobus isn't the only member of the Cougar Family that is ecstatic about Beyer's commitment. Kennedy head coach Brian White could not be more pleased with Beyer's accomplishments throughout his senior season playing football.
"I think it's a tremendous thing that he has accomplished," White said. "I know that it's his lifelong goal and dream to play for the University of Iowa and be a Hawkeye. It's the result of a lot of hard work in the weight room and on the field and in the classroom."
White continued, "Shaun has become a real vocal leader and he always puts the team before himself. He is pretty unique because he can do so many different things, he can play so many different positions. The thing about Shaun is he is a very talented young man and he is going to be very successful in college."
While White spoke very highly of Beyer, Beyer had just as many good things to say about White.
"Coach White has helped me in so many ways," Beyer said. "He has not only helped me become a good football player but helped me develop into a good young man. He has helped me understand the family concept and how that helps a team be successful. He is an all-around great coach and I have so much respect for him."
In preparation for next year's season, Beyer plans to be in the weight room getting stronger and gaining weight but "not too much" because he still has to be able to "high jump and contend for a state title."
Even though Beyer will be graduating in the spring, his Kennedy football family wants it to be known that they will still be there for him.
"It's going to be fun watching him for the next four years and hopefully I'll be able to get down there to Iowa City and see him in person," White said. "There are so many parts of Shaun that are so special but I think the thing that is going to help Shaun the most is that he is such an unselfish player and he will take to Iowa the attitude that, number 1 he will want the Hawks to win and number 2, he will do whatever he can to help them win."
White further displayed the sense of family that is evoked through all athletic groups and teams at Kennedy by saying "It's always nice that anybody from Kennedy gets recognized in this matter and it doesn't matter if you're a volleyball player, a football player, a cross country runner, any time a kid from Kennedy gets a Division 1 scholarship I think the community should celebrate that."