The Little Mermaid: A Beautiful Story of Race, Deserving of Criticism?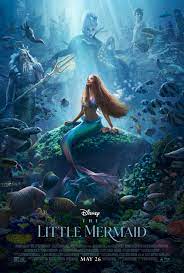 The live-action version of The Little Mermaid premiered in theaters on May 26, 2023. The movie stars Halle Bailey as Ariel and represents the third Disney Princess movie with a black woman as the lead.
In nearly 100 years of Disney productions, there have only been two black Disney princesses before The Little Mermaid live-action movie. The original actress who played Ariel was a white actress named Jodi Benson. Hallie Bailey is a black actress who portrayed Ariel in the live-action version. The drastic change in the casting of the mermaid has sparked controversy. 
Bailey isn't only a black actress portraying Ariel, she also wore locs and loc extensions. Critics claim that because the original Little Mermaid was white and it was a Danish movie Bailey isn't the person for the role. They also claim that the hair of the Little Mermaid ventures too far from the original. 
CNN entertainment writer AJ Willingham stated, "Ever since Disney released the first look for its 2023 live-action remake of The Little Mermaid, the internet has been sodden with wave after wave of racist critics…these critics often hide their discomfort behind other thin arguments, claiming historical or cultural accuracy or, of all things, science."
The reality is some people don't like change and are racially biased. The fact that the new Arial is black and has different hair doesn't represent anything but change and growth from the Disney organization. This is Disney's third black Disney princess and fifth princess of color. The new Little Mermaid is a story of representation and a new pathway of change for Disney. Critics are hyper-focused on how different the characters looked instead of focusing on the advancements in the story plot. 
The live adaptation of this movie itself was spectacular. One thing that really stood out compared to the animation is the music. From Bailey to the sea creatures, the soundtrack for this movie was magical. Audiences were able to understand more of Ariel's experience because of the added music that expressed her thoughts. Prince Eric, King Triton and Ursula relayed their emotions of hurt, confusion and disdain beautifully and widened our understanding of each of these characters. 
Not only was the movie a success in the black community but also in the box office. Forbes reported that during Memorial Day weekend, the movie grossed over 200 million dollars making it the 5th highest Memorial Day debut in box office history. The Little Mermaid has been a worldwide success and is predicted to do well during award season. 
Overall, the movie was a stunning display of cinematography and has paved the way for more black and people of color Disney princesses to come.