Flipping Back to the Past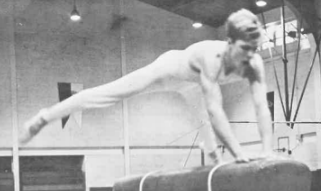 A gymnast swings her body forward and as she releases the bar, she flies through the air. The crowd holds their breath. With a soft thud, she lands with both feet planted on the mat. The Kennedy student section erupts.
Fifty-five years after the school's opening, the Kennedy gym is no longer filled with the mats, beams and bars for high school gymnastics meets. After starting in 1969, the girls' program was shut down in 1988 while 1976 marked the final year for the boys' team. However, this short-lived sport still let Kennedy shine. The boys' team made an appearance at state every season from 1968 until 1976 and the girls' went from 1969 through 1973.
Athletes Chuck Graham and Juli Schupbach helped lead their respective teams to success and experienced personal success as well. Schupbach launched Kennedy's gymnastics team to success with a first-place finish in beam, vault and all-around performance at state in 1970, only the second year of the sport. Graham ended the Kennedy boys' team on a strong note, winning first place in floor exercise, high bar, vault, parallel bars and all-around performance. Both teams experienced success, though often in different ways.
"The boys were probably better as a whole team, the girls usually had one or two individuals that were good but not quite as good as a team," said former Kennedy athletic director Randy Krejci.
While Kennedy experienced success with their team, gymnastics was not available everywhere. A lack of athletes and accessibility to necessary equipment made gymnastics a privilege for larger schools. Storing equipment could be an inconvenience and require excessive storage. Permanent vaults and uneven bars set up in a school gym were not feasible so Kennedy found a different approach.
"It was a lot like wrestling, they had [their equipment] in that equipment room by the gyms. A lot of stuff had to be stored down there," Krejci said.
For meets and practice, the equipment would be moved into the Main Gym from the equipment room. Mats, bars and trampolines were dragged up the stairs to prepare for the competitions. Multiple events made setup difficult but the variety makes the sport more appealing for some athletes, including sophomore Maggie Goldberg.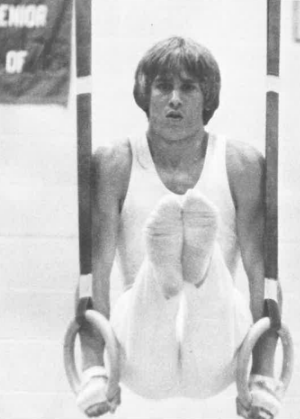 "I like that there are multiple parts to it… some sports like volleyball you [only] play volleyball but with gymnastics, you have four different events, at least with women's gymnastics, so you kind of get almost four different sports," said Goldberg.
High school girls could compete in beam, floor, vault and parallel bars and boys participated in floor, high bar, pommel horse, vault, parallel bars and rings. Both teams had a trampoline event until it ended in 1975 for boys and 1976 for girls, despite its popularity among students.
"I can remember we all… came to gymnastics just to watch trampoline," said Krejci.
The popularity did not outweigh the dangers. Injuries' prevalence in gymnastics can be harmful to high school athletes. Gymnasts are prone to injuries to their lower back, knees, ankles, wrists and Achilles tendon.
"A lot of my [gymnast] friends have had back injuries and knee problems because it is pretty hard on your knees and wrists," said Goldberg.
An average of 4.8 injuries per 1000 gymnasts occur each year. However, this number is comparable to contact sports such as football with 4.36 injuries per 1000 athletes, according to the Center for Disease Control and Prevention. The risk of injury and cost that came along with a gymnastics team led the Iowa High School Athletics Association to decide to no longer sanction gymnastics.
The Kennedy student section no longer gathers in the gym to watch their peers swing through the air, but they still gather to cheer on the sports we still have. Gymnastics may be gone from Kennedy, but the school spirit never left.