Don Dixson: Sewing Seeds
Don Dixson takes his mind and emotions out of the equation when making art. He gives full control over to his eyes, which guide the colors, patterns and layout of his pieced textile. Usually, the result is a whimsical mixture of bright fabrics, precisely sewn together and stretched across a canvas in pride. But once in a while, Dixson ends up with a Wonky Spiral.
Dixson didn't always have this artistic mindset. He had worked in IT as a business analyst since 1967. He only took an interest in art in 2007, when Dixson's daughter-in-law was pregnant with twins. She asked him to make quilts for them. Dixson had never made a quilt before, so he took a trip to Pine Needles, a fabric store. With help from the owner, Dixson picked out the fabrics for his first quilt.
Using his sister Marilyn Bishop's quilting equipment, Dixson sewed the fabrics together into his first piece. After gifting it to the twins, he found more requests for quilts flooding in. He joined Quilts of Valor to create quilts for veterans. After a few years, Dixson had established his ability to create quilts, but he didn't think of them as art.
His mindset changed when Bishop gave him skull-patterned fabrics. These skulls couldn't just be sewn into any quilt; they required coordination with the rest of the palette to work. Dixson took the challenge and created a quilt with reds and blacks to incorporate the skull designs. He was happy with the outcome.
"I showed it to a woman I work with, Shirley Hilton, and she'd always told me, 'Don, you're an artist,' whenever I did something. 'Oh, you know, you are an artist,'" Dixson said. "I showed her the quilt and she loved it. She said, 'I gotta show it to somebody.'"
That somebody was artist Stan Wiederspan, former owner of the Wiederspan Art Gallery in Cedar Rapids. He invited Dixson over to talk about art. Wiederspan's goal was to convince Dixson he could make more than quilts.
"With his encouragement—it took me a year or so, even after that—I bought some hand-dyed fabrics at a seminar sponsored by Ricky Tims," said Dixson. "Because, oh, maybe this is something I can do with art, you know?"
With fabric in hand, Dixson set out to find an art technique he enjoyed. He found the answer in a quilting magazine. For this technique, Dixson stacked his fabrics in squares and cut them up randomly. He sewed the pieces together—then cut them apart again. After repeating the process once more, Dixson had the triangular pieces needed to make the art. Dixson still hadn't figured out a design at this point.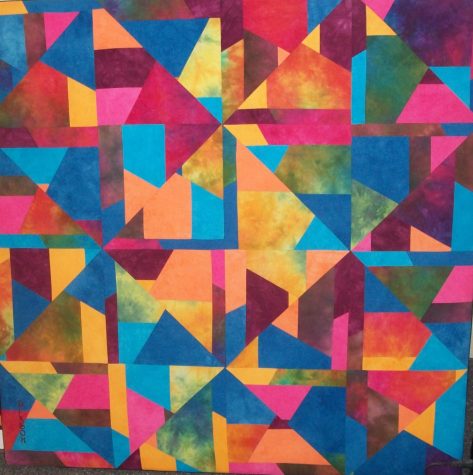 "I have a design wall of flannel fabric, and I'd put the triangles up because they would stick to the flannel. Then, I could move them around until I find the design that I like," Dixson said. "I don't plan it. I just do it as I work on it. It's not like I sit down with a piece of paper and figure out what I'm going to make."
This eye for art sparked Wiederspan's interest in Dixson. He displayed Dixson's first piece in his gallery—and it sold the same week.
Dixson makes a distinction between the art he creates now and the quilts he started with. His newer canvas-based art falls under the category of "pieced textiles."
"It's not really a quilt, because it's stretched on a frame. A quilt is something that you cover up with," Dixson said.

After the Wiederspan Art Gallery closed in 2016, Dixson branched out to other locations. His pieced textiles are now featured at the DKW Art Gallery, Mount Vernon Creates and the Physicians' Clinic of Iowa (PCI).
Dixson is often surprised by reactions at art shows. His pieces have been subject to both sides of the art pricing debate. At one of his first PCI art shows, a man balked at the $275 price tag on one textile. Dixson was later told by a woman at a NewBo City Market art show that the $1,000 price tag on a piece of his was too cheap.
Sometimes, the audience appreciates one of Dixson's pieces more than he does. When Dixson put up his piece Wonky Spiral at another PCI art show, he was taken aback.
The colors of Wonky Spiral were inspired by a blue and yellow dashiki, a traditional African outfit. Seeing their vibrancy, Dixson bought the same color of fabrics. His method delivered a spiral shape with reddish hues twisting through a sea of blue and gold. Dixson was not satisfied with the piece.
"That was the one piece I disliked probably more than any other piece I made. I was just, 'This thing is sad,'" Dixson said. "But I had it, and I had a space because I didn't have all that many pieces, so I kind of put it in the corner of my booth."
But when the show began, young people kept coming over to look at the spiral, in spite of Dixson's best attempt to hide it. One person told Dixson, "Oh, I love that piece!"
"I got more of a response from that piece than any other piece that I had," Dixson said.
In 2019, the Cedar Rapids Museum of Art (CRMA) had an exhibition titled "Into the Blue," with the goal of showcasing pieces that primarily used the color. Dixson submitted multiple pieces, including Wonky Spiral and Fire & Ice, one of his favorites. The CRMA selected Wonky Spiral to display.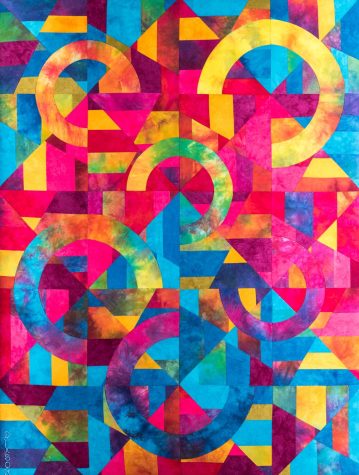 Dixson donated the piece to the museum's fundraiser, where it was sold at a silent auction.
"I have no idea how much they paid for it, or what happened to it, or who even got it, but someone bought it at their fundraiser," said Dixson.
Although his pieces could fetch high prices, Dixson doesn't want his art to become a business. When a young couple asked him about coming to an art show in Madison, Wisconsin, he turned them down.
"It's like four hours away. Setting up for an art show is a lot of work, and I'd have to travel several hours, have to spend the night …" Dixson said. "I have no desire to do it as a business."
Instead, Dixson has used pieced textiles to raise awareness of global issues. Recently, he's created two pieces based on the war in Ukraine. The first, Glory to Ukraine, is a three-in-one design, with each angle providing the viewer a different image. The other piece is Shattered & Scorched, which uses dull yellows and browns to evoke devastation.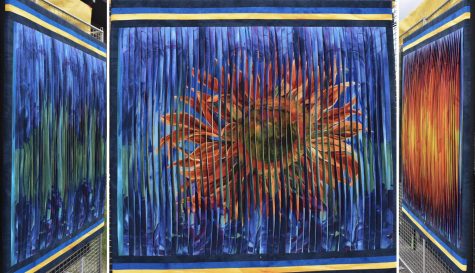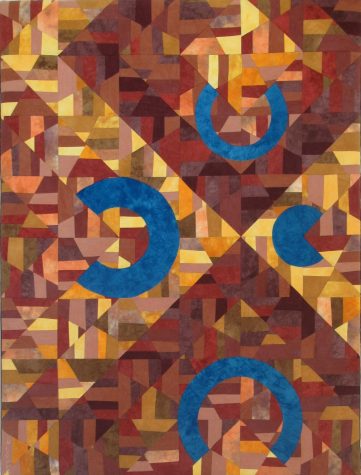 After getting settled with pieced textiles, Dixson challenged himself to find a new technique every year. His latest pieces, such as Fire Dance, use the idea of ripping fabrics instead of cutting them for a natural tone.
"It's a totally different look," said Dixson. "Completely different from anything that I've done. I've gotten a lot of really positive responses back on it."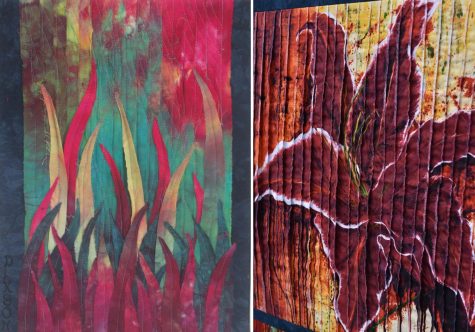 To give back to the community, Dixson shares his creation methods. The same woman who said Dixson's art was too cheap emailed him after the show, asking Dixson to describe how he created his pieces. Dixson responded with an explanation, which he later used as the basis for talks at quilt guilds. Some time later, the woman sent him a picture of her own pieced textile stretched on a frame.
"She tried it and did it, and she was proud of it," Dixson said.
Dixson would love to hear feedback from others who make pieced textiles using his instructions.
Dixson still appears at art shows in the Cedar Rapids area. He recently came to a show at the DKW Art Gallery on May 21, where he displayed his newest pieces, from Fire Dance to collaborations with photographer Angela Neal.
In these collaborations, Neal takes Dixson's art and creates her own version using editing software. The result is a kaleidoscopic swash of colors, patterns and fabric.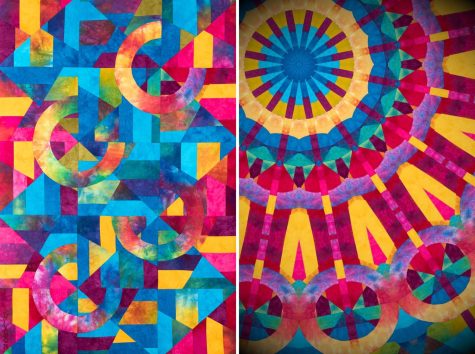 "The photography she does does not lend itself to these apps," Dixson said. "She loves working with these apps, so my art gives her a way of giving another dimension to her photography."
For more examples of pieced textiles, Dixson recommends the Textiles Fine Art Facebook group.
"I don't really post much on there … so I really like it when someone else puts my stuff out there. I think I did post something one time," said Dixson. "I get good responses. There's some people that get hundreds of responses, but I've never broken 100 yet on the likes or whatever it is. That's fine."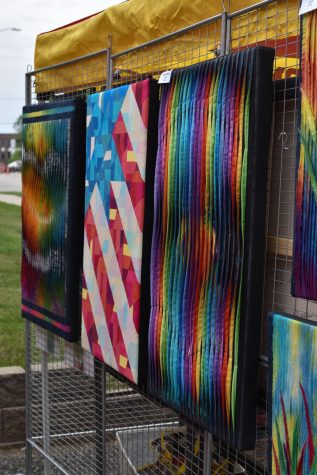 Dixson did not start as an artist, but he became one due to encouragement from his family and an openness to trying. The methodical nature of quilting appealed to him more than painting or photography ever could.
"I just encourage people—anybody, because I never, never thought of myself as an artist," said Dixson. "I think anyone can if they want to."
The best way to discover your artistic side is to try different mediums, according to Dixson. He recommended art classes through the DKW Art Gallery, where people can experiment with all kinds of materials, from watercolor and acrylic to concrete and drywall.
"Find what you love, and love what you do," Dixson said.