Kennedy Cougars Battle Iowa City West Swimmers
Kennedy's Women's Swimming and Diving was coming off of seven consecutive wins. With that momentum behind them, they dropped their second loss of the season to the ICW Trojans.
On Tuesday, Sept. 14, Iowa City's West High School met the Kennedy Cougars at the Coralville Recreation Center. The teams began competing at 6:00 p.m. As the meet progressed, the Cougars began to fall behind. By the end, the Kennedy swimmers had their second loss of the season, creating a 7:2 win-loss ratio.
"I think the biggest thing we need to work on is cheering. We need to continue to support our teammates while they're in the water," coach Jill Gerkin said.
Freshman Lilly Adams, a varsity swimmer, was unsatisfied with her performance, yet she remained supportive of her teammates.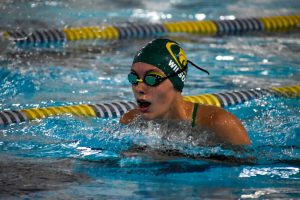 "I think [the team] did amazing," said Adams. "We need to work on our starts though, they were a little wonky today."
After the defeat, varsity coach Chad Derlin encouraged his swimmers with a positive attitude.
"That score does not represent the effort today," Derlin said. "They were a tough team and you guys competed. I'm proud of all of you."