The Dream of a Musician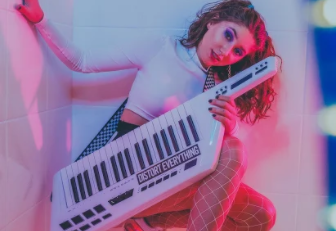 Music is something a person can fall in love with. Peyton Kach, senior at Kennedy High school is ready to pursue her passion for music. Kach is ready to step into the music industry with her new EP.
The piano was her first step into the music world, as Kach began playing at the early age of five. She then started learning another instrument, the guitar at the age of 13. Kach began playing the guitar when she joined a band, which formed through The Eastern Iowa Arts Academy. At the same time, Kach became the lead vocalist for, "We The People". In September she parted ways with the band to focus on her own music. 
"I came to love being able to compose my words, which I wasn't able to do with writing stories," Kach said. 
She has faced many obstacles, most detrimental being her own self-doubt. She would like to pursue music in college, but she is unsure if she is "good enough" to major in vocal performance. Kach compares herself to other musicians and is unable to feel as though she belonged in the music industry.
She fought demons, her anxiety, constantly while trying to create her music. It was difficult for Kach, trying to make something of her own, but it was never "right". There was something always "off" or "incomplete", she was also struggling with being able to fund for her project.
 She explored the website SoundBetter to find a producer, and eventually stumbled upon Claudia Mills. After consideration, Kach decided to work with Mills to produce her own EP.
When a person constructs a passion for something, it can be difficult to meet eye to eye with folks who don't carry the same passion. She and her parents are caught between what she should study in college. Her parents want her to major in business, but Kach would rather pursue her dreams of creating music.
Music is a kind of therapy to Kach, she is able to connect with some of her favorite artists and relate to their music. The emotional aspect of music is the main reason that Kach wants to pursue this career. She wishes that her music will be relatable and helpful to her listeners and that it will provide them with a warm feeling, as it does her. 
Leah Hiemstra has traveled alongside Kach throughout her music career, giving feedback and suggesting changes. Since Hiemstra normally prefers different kinds of music than Kach, she makes an effort to listen to music Kach enjoys.
One of Heimstra's strategies for judging the music is to put herself in the shoes of an imagined listener.
"If I was a random person just listening to this on the radio, would I like it?" Hiemstra said.
Kach has spent a major amount of time putting together her first EP. Since COVID-19 hit, however, she was looking forward to releasing it back in early May. After all of the effort that has been poured into her EP, Kach looks forward to releasing her passion project.