Food Truck Wednesdays? Yes Please!
As summer approaches, it's common to wonder what you're going to do with your spare time all of a sudden. NewBo City Market has begun "Food Truck Wednesdays,", which is an event every Wednesday where food trucks from Eastern Iowa serve their unique cuisine outside. Through Sept. 5, you can stop by any Wednesday from 11 a.m. to 2 p.m. to eat some authentic local and international food.
One of the food trucks that will be a regular at Food Truck Wednesdays is La Reyna, a food truck that serves Mexican cuisine. With a retro truck, good prices, and awesome food, this is just the first in line of many food trucks I'm trying this summer.
I ordered two chicken tacos, an order of chips and queso, and a bottled water. Altogether it cost $11, which is a great price for how great the tacos and queso were. The two tacos came on a small tortilla with onions and cilantro on top. You have the option to add salsa and cheese once you get your tacos, which were amazing.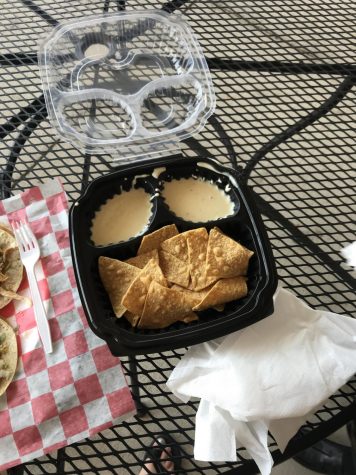 The homemade tortilla chips were coupled with creamy and spicy queso that made the line of no more than 10 minutes totally worth waiting in.
Each food struck hosted a line at least five people long, but the quality and price of the food made the whole experience worth it, and the waiting areas are all shaded so it's not miserable to stand outside. Most of the eating area was also shaded so after getting your food you could also have a pleasant lunch.
Make sure to check out the dozens of food trucks that will be at NewBo City Market each Wednesday 11 a.m. to 2 p.m. all summer long. Whether it's gyros, quesadillas, or Italian ice, the lines are worth it and you can't go wrong at Food Truck Wednesdays.