Service Above Self
Senior Jose Juarez selected as recipient of Rotary Club award
Senior Jose Juarez was awarded the Service Above Self Award at a Jan. 15 luncheon at the DoubleTree by Hilton in downtown Cedar Rapids. There were eight other high school recipients and the award is only presented to one senior from each high school.
"The requirements were to write a one-page essay about my future aspirations for greater service and ambitions," Juarez said.
The Martin Luther King Jr. Service Above Self Award is for exemplifying the qualities and ideas of Martin Luther King Jr., contribute more to the community and have qualities of a leader. The award is presented by the Rotary Club of Cedar Rapids, Iowa.
"I wrote about wanting to become an educator and an interpreter, along with contributing to social work and volunteering," Juarez said.
Juarez was very surprised when his counselor, Tracie Guenther-Yoke, informed him about the award. Juarez feels honored to be somewhat compared to Martin Luther King Junior.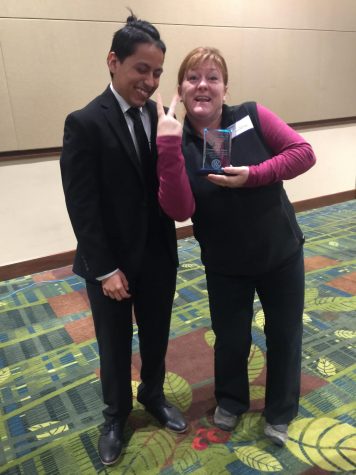 "The award isn't about what I have done, but about what I plan to do with my life," Juarez said. "It's a promise to continue bettering my community and accomplished more to help the people around me."
Martin Luther King Jr. is one of Juarez's role model and had never would have imagined having an award under his name.
"Teachers have inspired me to teach and I feel that many of my teachers have also pushed me to follow other paths in my life to better myself," Juarez said.
Juarez has lived in Cedar Rapids for about fourteen years. Juarez and his family are immigrants and the neighborhood he has grown up in, he has seen similar families who also wanted a better life like his own.
"I want to help them feel safe and welcome," Juarez said. "Helping my hometown means helping the people I have grown up with."
A grandmother like figure in Juarez's life was an interpreter who helped out his family of great deal and they became family. During Juarez's early life, he had to translate and interpret for his family since he learned English in kindergarten.
"I got my brother a head start in English and translated for my parents quite a lot," Juarez said.
Juarez is currently learning and focusing on Mandarin Chinese and aspires to learn Cantonese, American Sign Language (ASL), Citation Style Language (CSL), Arabic, and German while also, improving his English, Spanish, and Chinese.