Quick Bites: Restaurant reviews that you can use
Ting's Red Lantern Review
(review by Paige Lindo)
Ting's is an amazing, little piece of ethnic culture to have as a restaurant. I went there on Thursday for dinner with my friend and my dad. When we came in the restaurant we were nicely treated and sat down right away, and left to look over the menu.
I immediately took notice of the pleasant Chinese decor that was around the restaurant. It made for a quiet and nice eating environment. We were frequently checked on by the waiter, asking if we were ready to order.
Once we did order the food came in about 5-10 minutes, seeing as it wasn't very busy and we were there at around 7 p.m. We had a huge amount of food to eat, with amazing flavors and fresh tasting vegetables. Also, it was a great food presentation with varieties of colors, especially reds and greens.
When we were all pretty full, we still had plenty of food, which we took home for leftovers. The total price of the food was kind of expensive at $29.75, but worth it from the amount we got.
For information on hours and location, see Ting's site here.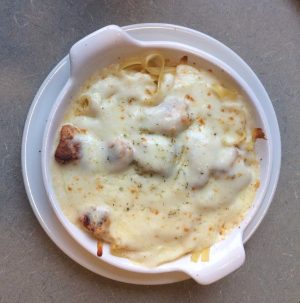 Fazolis
(review by Lisette High)  "Fast Italian food"…some people might wonder how good it could be, but that's what Fazolis is, a fast food and fresh Italian restaurant.
Fazolis has a lot of items to choose from, such as salads, subs, oven-baked pastas, normal pastas, even desserts.
I decided to go to Fazolis two days in a row to check if their food quality, customer service, and cleanliness of the restaurant was consistent. The first time I went, a Saturday, I noticed that the person taking our orders was very nice and helpful. The tables were clean and the food delicious.
Fazolis advertises that customers get unlimited bread sticks and as soon as we sat down, we received a bundle of bread sticks. They were hot, buttery and good tasting. When our food was delivered, I got the baked fettuccini Alfredo, a dish that was steaming hot, very cheesy, and delicious.
If I were to just base my review off Saturday, it would be an almost perfect review.
Because I decided to go twice, I must use my that experience, as well. The second time (next day, in fact), I got the same thing, baked fettuccine Alfredo, but this time I added chicken. The service was good, and they brought the bread sticks out just as quickly as the day before. Once again, the food was steaming hot and delicious. The chicken was average, but cooked well. The table was not thoroughly cleaned– at least, not on the side, and I also noticed that there was a crack on the side of the bowl that held my food.
Fazolis is not a perfect restaurant, but it is good. All in all, I would recommend going if you want fast food and if you also like Italian.
For information on hours and location, see the restaurant site
Change In Taco Bell
(review by Shaun Pothepalli)
Many Cedar Rapidians have probably been to the Taco Bell located on 2621 Blairs Ferry Rd. at least once in their lives. I've personally gone many times with my family, usually during the weekend.
In the past years we've been there, the people who worked there would end up serving us the wrong meal or, especially if ordering from outside, it would take a longer amount of time for food to arrive.  My family and I stopped going for almost a year, but now we go once in a while, and we recently went there for lunch.
On the outside, Taco Bell doesn't appear like a great place to eat, but when I was there it was packed with people eagerly waiting to order their choice of food.
When our turn came, I ordered the Chicken Quesadilla, Fiesta Potatoes with no sour cream, and some cinnamon twists. My mom ordered the Mexican Pizza, while my dad took two bean burritos. Drinks included one Sierra Mist and a Pepsi.
Based on the number of people already waiting for their meals and already eating (which was 22, as I counted), I expected the food to come in about 10 minutes. Instead, the food came within five, even with all we ordered. This is definitely a change from the past presentation and delivery of food.
Another thing I appreciate is how the restaurant tries to bring new things into the franchise, like the Cool Ranch Doritos Locos Tacos Supreme. I am not a fan of tacos, but it was nice to see something different.
The food ended up tasting great. The ambiance was nice. People chatted casually as some random music played in the restaurant. I really had a great time there with my family, and the cost of the food we ordered seemed right at $16.94.
The quality of the food, and drinks, along with the presentation made a great lunch. If it has been a while since you've stopped at this Taco Bell, then see what's new, and if you've never been, I would highly recommend you to try it.
Click here for the restaurant's site.