Brad Buck named new superintendent
CR graduate returning to lead district
Tonight the Cedar Rapids Community School District welcomed Dr. Brad Buck as the new Superintendent. He was approved by the Board of Education on March 18 during a special meeting at the district's administrative building.
Buck is currently the Director of the Iowa Department of Education. He begins his role as Superintendent on July 1, replacing Dr. Dave Benson who will be retiring after six years in his position. Buck graduated from Cedar Rapids Jefferson High School in 1987. He then went on to earn his undergraduate degree in biology from the University of Northern Iowa, and then both his Master's and Ph.D. from Iowa State University. He and his wife Traci are the parents of six children.
In a press release put out after the meeting tonight, Buck says, "As a native of Cedar Rapids and a proud graduate of Jefferson High School, I'm thrilled to return to my hometown in this role, it is clear to me that this is a school district that is committed to innovation and a vision of 'Excellence for All,' and I stand ready to be an integral part of delivering on that vision."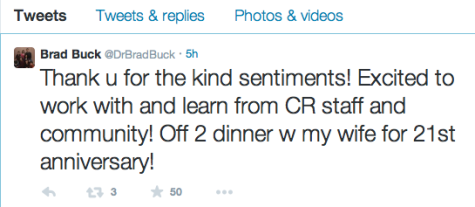 Buck began his career in education as a middle school teacher in the Ankeny Community School District and he spent five years there before moving on to administration jobs within the Hudson, Waukee, and North Mahaska school districts. After his roles in administration he became the Superintendent of Saydel Community School District. In 2013, Iowa Governor Terry Branstad appointed Buck to become the Director of the Iowa Department of Education.
Shortly after tonight's meeting concluded, the new Superintendent Buck tweeted that he appreciated all of the kind sentiments and that he is excited to work with the staff within the district and community.
Buck's starting salary will be $229,000 as Superintendent.