Student goverment holds annual canned food drive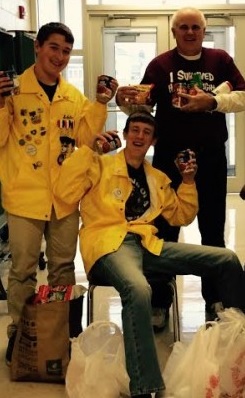 The Kennedy Student Government held their annual canned food drive during the week of November third. Students could bring their canned goods to their cans to their fourth hour teacher, and the grade that brought the most cans in would get a point in the winter pep assembly. The cans were sent to the Iowa Veterans Welcome Center, but as of now, have not yet been delivered.
Even with the pep assembly point up for grabs, this year, they received only around 300 cans, which those involved felt was a really big disappointment, considering that it was far below the goal that they had in mind coming in to this year's drive.
"It was disappointing, because we usually try to get a thousand cans each year at the least," Joe Benedict, the Kennedy teacher that helps run it, said.
Last year, they got around 800 cans, which means they received 500 less this year. This amount is the lowest they have ever had.
"I would not consider it a good turnout, because it is probably our lowest total that we have ever had ," Benedict said.
There is no announcement time this school year because of S.M.A.R.T Lunch, and Benedict thinks that may have played a part in the problem with the low outcome of canned goods this year.
"I think that not having announcements hurt, because I think that a lot of kids were not even aware that we were doing it," Benedict said.
Even though they had a bad turnout this year, the Student Government will still continue to do a canned food drive every year for the foreseeable future and see if Kennedy can improve on its total and continue to help out the community.
"We plan on doing it again next year, if we have announcements next year, maybe it will go better," Benedict said.