Men's golf swings into state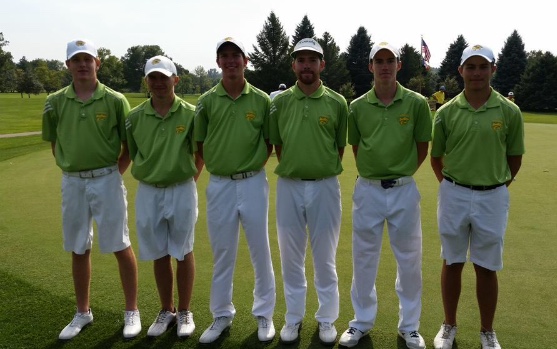 The Kennedy Men's Golf team won the district tournament today by seven strokes with a team score of 299 and earned themselves a trip to the state tournament for the eighth consecutive year.
The Cougars were led by Cole Murdock, sr., with a score of 72. Murdock placed first overall after a playoff with Ottumwa golfer, Matt Walker. Murdock had a pair of 36's on the front and back nine, but he didn't stop there. Murdock made a hole-in-one on hole number sixteen at Hunter's Ridge today.
Along with Murdock, the other five Cougar golfers had success on the course today, too. Behind Murdock was Cougar golfer Conner Koberg, sr., with a score of 74. Koberg recieved third place overall after a playoff with Linn Mar golfer, Max Thurne.
Davis Sutton, sr., had a score of 76, Jordan Weiss, jr. shot a 77, Tanner Stewart, sr., shot a 79, and Ross Grekoff, sr., had a score of 82.
Today wasn't the only day the Cougar golfers earned a title. On Sept. 29, the team had a combined score of 300 to win their eighth consecutive MVC Championship. Sutton was named Player of the Year for the MVC, along with Murdock and Koberg receiving first team all conference honors. The Cougars were also represented on second team all conference by Stewart and Grekoff.
Prior to that, on Sept. 19, Kennedy beat No. 1 Waukee in the Tiger Invitational by two strokes with a team score of 310."We just have to play our game and not focus on us verses them," Stewart said.
Conference Champions, District Champions, and now on to the state tournament. The Cougars will play the state tournament Friday, Oct. 10, and Saturday, Oct. 11 at the Tournament Club of Iowa in Polk City for yet another title.
"We got the job done at districts, now we have to get the job done at state," Stewart said.