Cougars defeat J-Hawks on Jefferson Turf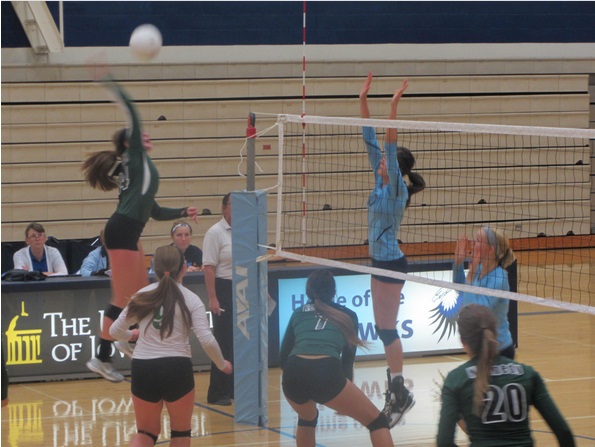 The Kennedy Cougars' varsity volleyball team travelled to Jefferson on Tuesday, Sept. 30 and emerged victorious.
The Cougars won the first game of the match 25-14. The next game went to the J-Hawks by a close score of 26-24, but the Cougars came back in games three and four with scores of 25-23 and 25-17 to win the match, three games to one.
Kennedy player Emma Boote, so., was still not back in the game after her injury at last week's home game against Iowa City West. According to head coach Michelle Goodall, Emma got a bad sprain on her ankle. Boote will "probably be out for about 10 more days," Goodall said.
Another injury hit the Cougar bench tonight as well, with Madison Haefner, jr., limping off the court during their pre-game warm-up. She was taken into the locker room by the Jefferson athletic trainer and came back out wearing a leg brace.
"I don't know yet [what the injury is], I'll have to go to the doctor," Haefner said.