Women's swim team takes a look at upcoming season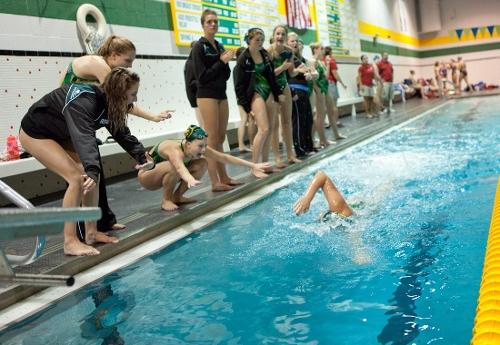 After a great start to the season winning against Iowa City High 124 to 59 the Kennedy Women's Swim Team is looking to go to state once again.
"Our number one goal is to send as many girls as we possibly can to the state meet," Sam Jacobsen, sr., said.
With one meet done and many to come, all of the swimmers are spending a lot of time training.
"We started training August 11 and practice six days a week for two and a half or three hours at a time," Raquel Green, so., said.
Kennedy swimmers feel like they have a good chance at being in the top fifteen again at state this year, and winning another regional title.
"I have swam for so long it's just kind of in my nature," Green said.
Kennedy is looking for another win tonight at home against Jefferson High School.
"I want to thank my teammates and coaches for being the best and for being so supportive. I really couldn't do any of it without them," Jacobsen said.
The only person to get a personal record time was Jessica Williams, so., in the 100 meter back stroke.
"Our times weren't the best, but that leaves room for improvement," Raquel Green, so., said. "The good thing is we started this season where we left off last season."
With only room to improve, the Kennedy Women's Swim Team is looking for a season with lots of potential and many wins.
"I am looking forward to a great final season with my teammates," Sam Jacobsen, sr., said.