Fall pep assembly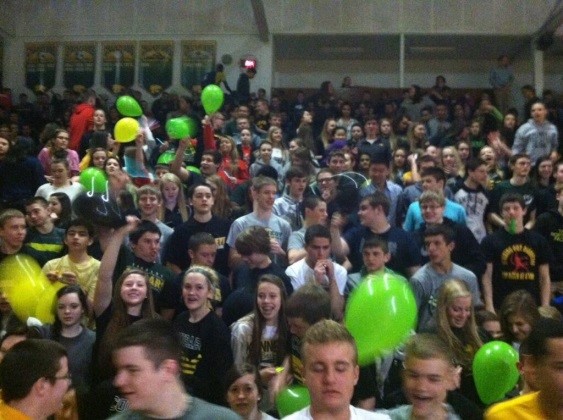 The juniors claimed the spirit stick on Friday, Aug. 29 at Kennedy High School's first pep assembly of the 2014-2015 school year. The Cougars have a pep assembly three times a year at the beginning of each trimester.
"I love attending the pep assemblies," Matthew Lewis, jr., said, "The atmosphere is always loud and fun, and I look forward to them every trimester."
With many older students fully understanding the concept of the assembly, the younger ones are still not fully aware of what is in store. The freshman class practiced for the upcoming assembly at the freshman orientation.
In the past, students have decided to wear matching colors, bring balloons, streamers, etc., and try to show the most school spirit. The winner of the most points receives the spirit stick, which will be returned at the next pep assembly.
"When I was a sophomore our class won," Lewis said. "They threw the spirit stick into the student section and I caught it and got to keep it all trimester, which was awesome."
With the cost of a point at stake, every student is taken out of class and packed into the gym to show off their school spirit.
"There aren't usually problems at the pep assembly, it just usually takes a while to get out of the gym afterwards," Kelsey Whitmore, so., said.
The cheerleading squad and dance team performed at this year's assembly. Principal Jason Kline announced a new competition for this assembly, a synchronized "swimming" routine worth two points.
Each class chooses a group of 16 people maximum, to choreograph perform the dance at the pep assembly on Friday. The dance will be 45 seconds long and will be to the song of What a Feeling.
"It is rare that the whole school comes together. It is fun to see everyone as a community at the same time and show their school spirit," Whitmore said.