Registering For Kirkwood Academy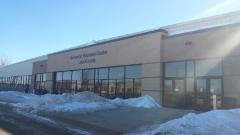 As Kennedy students are registering for next year, one option that not everyone is aware of is the Kirkwood Academy. This is where high school students can drive over to the Linn County Regional Center and take classes for dual credit-that is, they earn credit towards high school and towards college at the same time.
Anthony Jensen is the Career Development Coordinator at the Linn County Regional Center. He says that in order for admission to the Kirkwood academies, one must fill out the pre-registration form with their high school counselor and take the ACT, or an equivalency test such as the COMPASS test, which is offered for free in the testing center of the Kirkwood Academy.
One of the students who is taking advantage of this opportunity is Garrett Carlson, sr. He talked to his counselors about it.
"Last year I took building and construction, this year I'm taking architectural plans and specifications," Carlson said.
One interesting thing about taking Kirkwood classes is that there are for the most part no required prerequisites that you must take at Kennedy before taking the Kirkwood classes.
Carlson said that he would recommend taking this opportunity.
"It's a lot of fun," Carlson said, "and it makes your days a lot shorter."
Carlson also offered some advice to those considering registering for the classes.
"It's free credit, take it seriously, go to class every day," Carlson said.
For students who are interested in taking this opportunity, there is still time to register for the 2014-2015 school year. Lori Clore, one of the counselors here at Kennedy, says that if you wish to take advantage of this, let your counselors know during registration confirmation.
"We would encourage all students during junior and senior year to extend themselves with AP class enrollment, job shadows and internships, BIG Idea, and/or the Kirkwood academies."