Altered Schedules as Kennedy Recognizes Students and Competes at State
The second week of March marks a busy few days for Kennedy students and staff.
On Tuesday, March 7, the Spring Academic assembly recognizes students in the main gym. Students being recognized will sit in assigned seats toward the front of the gymnasium with seats for parents located behind them. Recognized students have received passes or emails to leave class at 8:40 a.m. in order to have all aforementioned students in the designated location by 9:00 a.m. Then the rest of the school will be dismissed and seated behind the parent section. Classes will be shortened to an hour, excluding third hour—the lunch period. 
The following day, Wednesday, March 8, the Kennedy Boys' Basketball Team will compete in the state competition at the Wells Fargo Arena in downtown Des Moines. All classes will be 45 minutes long and buses will leave with the team from Kennedy at 11:25 a.m.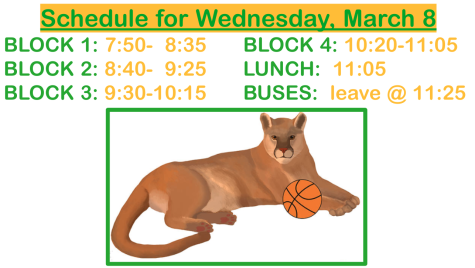 If two days of shortened classes aren't enough for the week preceding spring break, those signed up for the Young Women in Leadership conference at UNI will also be missing classes on Thursday, March 9. Students registered will leave the south lot at 6:45 a.m. and return at 2:30 p.m.
Schedule graphics have been made for both Tuesday and Wednesday by Kennedy administrators to ease the abrupt change in routine.