KHS Bowling MVC Recap
Kennedy's bowling teams competed in the Mississippi Valley Conference (MVC) Divisional meet in Cedar Rapids on Thursday, Jan. 26 at Cedar Rapids Bowling Center. 
Three of the varsity boys placed in the top eight: senior Alex Hume walked away as the Valley Division champion, senior Lucas Dolphin got second and junior Caden Foye earned seventh.  The boys' team was named Mississippi Valley, Valley Division tournament champions.
"The team placed first which makes me really excited for the rest of the season as well as for state qualifiers," said senior Alex Hume. "I was also really excited to see some of my teammates in the top eight."
The Cougar boys had a high baker—the players rotate bowling on the same lane all together—a game of 227. Hume led the team with a high series of 472, Dolphin bowled a high game of 249 finishing with a 466 series and Foye followed behind with a 433 series.
Related Stories: Cougars Boys' Bowling Takes 1st at MVC Meet
"We bowl as a team, letting each other know what was wrong with a shot or giving reminders or recommending adjustments before a shot," Hume said.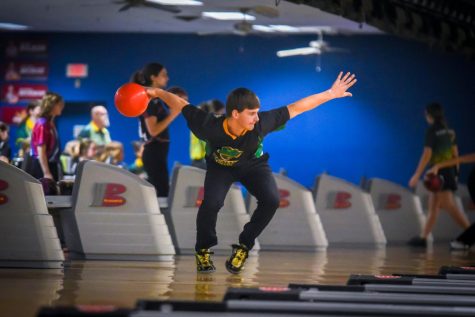 The girls' team earned fourth as a team with a match total of 2537. In addition, junior Kaylee Harris placed third and senior Abby Hume earned fourth.
"Being able to bond and see each other grow throughout the years has been really cool," Harris said.
Girls' varsity rolled a high baker game of 194. Harris led the team in individuals with a high game of 235 and ended with a 441 series and Abby Hume finished with a 415 series.
The varsity girls will compete at state qualifiers on Monday, Feb. 13, and the boys follow on Tuesday, Feb. 14. Both matches will be at Lancer Lanes in Cedar Rapids.
"Our biggest strength is just putting in the work for the sport that we all love," said Harris.