Kennedy Presents a Tale as Old as Time
Kennedy's theater department has been buzzing with excitement since the Playtime Poppy production of Beauty and the Beast Jr. began in late October. Like with every show, an immense amount of work and has been put into making the musical.
"The hardest part for me as a director is there is always something else you can do, the list never ends. At some point, though, you have to just put down the paintbrush or drill and say the show is ready to open," said the show's director, Steven Tolly.
This same work ethic also applies to the actors. Stage play actors have many challenges presented to them while performing. Being unable to redo a scene midshow and performing for hundreds of people can make acting very intimidating. Despite this, junior Luke O'Brien who plays Gaston loves it.
"I've done every show I can, even if I'm not too sure about the show choice, and every time it ends up being a great experience. After all the hours put into making the show great, seeing it finally take shape. Watching everyone slowly improve and find their character really makes the time and effort worth it," said O'Brien.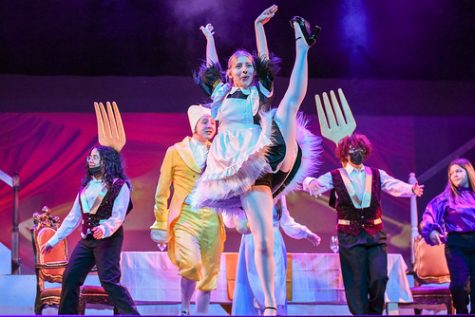 The actors are not the only contributors to the show. While mostly unseen during the shows the tech crew runs the audio, lighting, video and stage itself. They find joy in their work despite having to keep the entire show running.
"I love Kennedy theater so much! It's a super-inclusive space… [tech] puts in so much work just to be in the back, even so, their passion never falters," said junior Calliope Matta, the student director. "I believe theater can be one of the best parts of anyone's day." 
The are eight opportunities to see Beauty and the Beast—Thursday, Dec. 1 and 8 at 5 p.m., Friday, Dec. 2 and 9 at 5 and 7:30 p.m. and Saturday, Dec 3. at 11 a.m. and 2 p.m. Tickets can be purchased online at this link or bought at the door.