Swimming and Diving Scores in the Preliminaries
Girls' state swimming preliminaries finished yesterday, Nov. 11, with Kennedy landing at third overall after diving concluded. Both swimming and diving finished with multiple athletes in high rankings, seating Kennedy at 23 points.
Kennedy had more than the typical number of finalists this year. In recent years, only one or two outstanding swimmers have qualified for finals but that number increased yesterday.
"I think the team performed exceptionally well," junior finalist Ellie Hance. "In my time on Kennedy swim and dive we've never had three people qualify for finals, so being part of that this year is super exciting."
The preliminary round ended with three Kennedy swimmers advancing to finals, swimming in a combined total of five events. Sophomore Lilly Adams will be swimming in the consolation rounds of both the 200 Yard Individual Medley and the 100 Yard Backstroke. Junior Maria Trotta will swim the consolation round of the 100 Yard Freestyle next to Hance as well as the championship round of the 50 Yard Freestyle in which she is seeded fifth.
Divers also performed well during their competition, with senior Lacey Neighbor taking sixth and making the final podium. Katelyn Mackey and Kylie Link took 11th and 13th respectively, all placing higher than they were expected to.
"Congrats to the Kennedy Divers," tweeted Varsity Coach Chad Derlein. "[I'm] super happy in the dedication and commitment you all shown this season. Congrats to Lacey on getting 6th, Katelyn on getting 11th and Kylie on getting 13th."
Swimmers feel ready for the challenge of finals.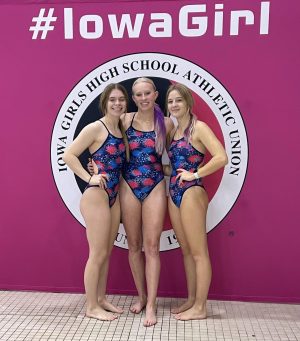 "I think the effort we all put in during practice has brought us here, we constantly push each other and work off each other," Hance said. "Our coaches prepared us really well for this meet. Whether it was writing the practices or helping us remember that we are capable of achieving our goals—they play a big role in our success."
Today at noon the final round will begin, including relays, traditional events and para-events. The swimmers who placed in the top eight during the preliminaries will compete in a championship round while those who place from ninth to 16th will swim again in a consolation round. All relays will compete once and those times will be taken as final.
"I'm excited because relays are always the most fun," Hance said. "I'm definitely more relaxed going into tomorrow because now it's just fun. I have a lot that I can improve upon in finals but overall I'm happy with how I performed. All that matters is that I go out and give it everything I have tomorrow."
The event will be live-streamed on the IGHSAU website at 11:45 a.m. for those who are not able to attend.