Noreen Bush: A Life To Be Remembered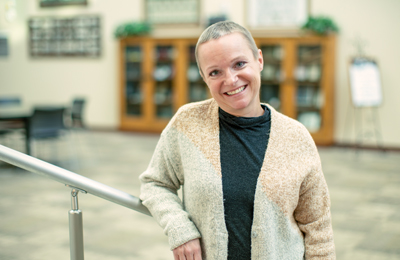 Noreen Bush. Superintendent, mentor, friend. A woman who went by many titles and affected the lives of thousands, lost her two-and-a-half-year battle with cancer on Sunday, Oct. 23, 2022. Words cannot describe the impact her passing has already had on her family, friends, colleagues and students. Our Torch staff now sits in her absence, silent in the shock of her death.
A Cedar Rapids native and CRCSD graduate, Noreen has been a part of our lives since long before we knew her as a superintendent. After graduating from Jefferson High School in 1989, Noreen proceeded to the University of Northern Iowa to obtain her bachelor's degree in English. Her teaching career began in Clayton, Missouri as an English and drama teacher. Noreen served as associate superintendent of the Cedar Rapids Community School District when Brad Buck was superintendent.
In February 2020, Noreen was unanimously approved by the Cedar Rapids school board to serve as the first female superintendent for the district. The two-and-a-half years she spent as our superintendent was not enough time. Noreen could be found dancing and laughing despite her challenges and battle with cancer.  She never let her positive spirit be dampened and always wore a shining smile.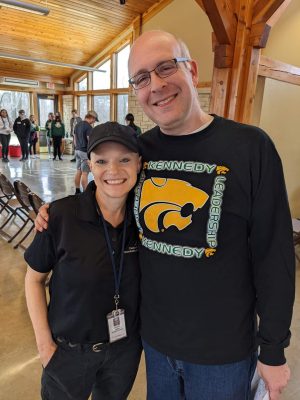 During her tenure, Noreen led the district through a natural disaster, the pandemic and two facility master plans. Through all of it, Noreen was a friend to her colleagues within the CRCSD and the school board. 
"We will miss her caring soul, delightful spirit, and strong dedication to the Cedar Rapids Community School District," said school board member David Tominsky. "Noreen led the Cedar Rapids Community School District with compassion for every learner and strength in making important decisions. She was admirably known for her leadership and hard work, along with her caring smile and laughter that flowed to all who were blessed to know her."
Noreen's influence was vast, spreading to all of the schools in the district. Jason Kline, Kennedy's principal, was good friends with Noreen and was greatly affected by her passing.
"You were the greatest leader. The best mentor. The most compassionate person. You showed us all how to be better. No matter your situation, you gave us all hope. No matter the struggles and difficulties the job threw at you, you led," tweeted Kline.
Named Iowa Superintendent of the Year by Iowa school administrators in 2021, Noreen repeatedly demonstrated her incredible leadership and compassion to students by coming into their classes, stepping up at MoShow to MC and attending as many school functions as she could.
Whenever we, as newspaper students, needed resources, an interview or support, Noreen never hesitated to help. Making time for us in her busy schedule to talk to us. She was willing to provide interviews on controversial topics concerning CRCSD and put herself on the line in the name of journalism. Not only was she a mentor but a friend, willing to discuss anything from SROs to her favorite color.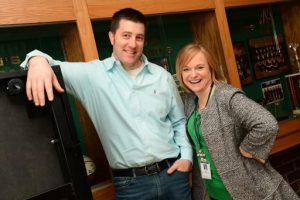 Our advisor Steven Tolly considered her the most generous and supportive boss someone could have. They developed their relationship despite the hardships 2020 brought.
"As a 14-year veteran of CRCSD, I decided it was time to try something different. I took a job in another district. A year later I was back at Kennedy High School. I missed my home, my friends and the atmosphere. I knew Noreen by name, my wife had worked with her, but had only met her briefly. As I entered the room she charged across it (like only she can do) to give me a hug and tell me she was so excited to have me back. I have never felt so appreciated as I did that day," said Tolly. "Over the next few years, we made it through a pandemic, a building-leveling storm and I was always proud to have her as the one calling the shots."
Noreen took a medical leave of absence on Sept. 19 but planned to return at some point before the conclusion of the school year. She wanted to continue to work with her friends and students for as long as she could. Cancer stole that choice from her and she resigned on Sept. 22, planning to retire at the end of the 2023 school year. 
She will live on through the incredible legacy she has left in the CRCSD. Her infectious smile and enthusiastic attitude brightened all of our lives. Noreen will be missed.  
"
I write as a parent of two at Kennedy High School. Not as someone who covered CRCSD. Superintendent Noreen Bush always had the best interests of the students in mind. She served with distinction. With honor. May her family and those she touched find peace in her legacy."
— Chris Earl