It's Payday Cougs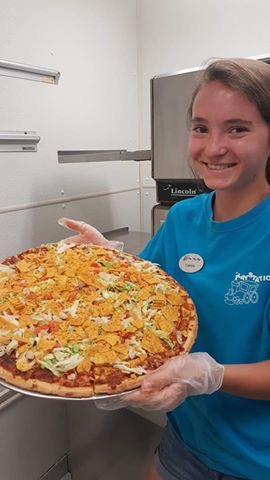 Although the spring rain doesn't show any signs of stopping, the 2019 school year is almost at an end and summer break will be in full swing. While spending time at the pool with your friends sounds like a summer well spent, you might as well make a little cash on your time off. Finding a job can be tough, especially for high school students who haven't had exposure to jobs in the past. Here are a few jobs that you could pick up this summer and put a little money in the bank.
Fareway
Kallie Kolthoff, Kennedy sophomore has worked at Fareway for almost two years.
"When I started I worked as a courtesy but I'm now a cashier," Kolthoff said.
Kolthoff admits that during the school year it's challenging to get hours in at her job while balancing homework and after school activities.
"While I'm in season it's difficult to get in hours due to practices being right after school but during the summer I try to work as often as possible," Kolthoff said.
Fareway works pretty well with schedules but would prefer that you can work as much as possible. The employees help make the job fun and make working not as boring.
"My favorite part would have to be the employees because everyone is nice," Kolthoff said.
Kolthoff thinks that Fareway would be a great summer job for any high school student.
"This job will help students manage money and time. It's nice yo have a job to create security and not have to rely on parents for money," Kolthoff said.
To apply for a position at Fareway, click here.
The Play station
Cassie Lehman, a recent graduate of the Kennedy senior class of 2019, has worked at The Play Station for two and a half years.
"I work all positions, so cleaners front counter, kitchen, but almost always party host," Lehman said.
Lehman has really enjoyed her job and meeting so many new people.
"The best part is that I met so many of my closest friends through the job," Lehman said.
Working at The Play Station has really allowed Lehman to open up and become a more social person all around.
"Working in the environment I do think it's helped me become a more outgoing person," Lehman said, "you come across so many different types of people and it really just gives you experience and people skills for sure."
For anyone who is worried about their first day on the job, Lehman has some advice for you.
"I think some good advice is just to go in with an open mind and maybe your first day won't be amazing and it will be hard, but before you know it you'll start loving all the little aspects of the job and probably enjoy going there," Lehman said.
To apply for a position at The Play Station, click here.
Hyvee
Sophomore Audrey Miller has been working in the floral department at Hyvee for six months and loves getting to express herself through her job.
"My favorite part of being a floral clerk is that I get to be creative and I really enjoy that," Miller said.
According to Miller, Hyvee can help you manage your time and become more responsible.
"I think these jobs can benefit high school students because they teach responsibility and time management, both of which have really helped me out," Miller said.
The interview process can also be stressful and that's something Miller doesn't want you to stress about.
"Some advice I'd give to people trying to apply for these jobs is to not overthink when you go to the interview. The interviewers are super nice people and they usually want you to work there. So as long as you're outgoing and professional you should be alright," Miller said.
Whether you're looking for a summer job or something more long term there are plenty of great options out there. Just be yourself and don't stress about finding the perfect job.
To apply for a position at Hyvee, click here.